Spicy Grasshopper Egg Salad
Had enough of your daily sandwiches or healthy but boring salads for lunch? This spicy and ridiculously protein-rich recipe is there to spice up your lunch-break from time to time. It combines the spiciness from both the tabasco and fresh chili pepper (if your tastebuds can handle both of them) with the freshness of the avocado, chives and lemon juice.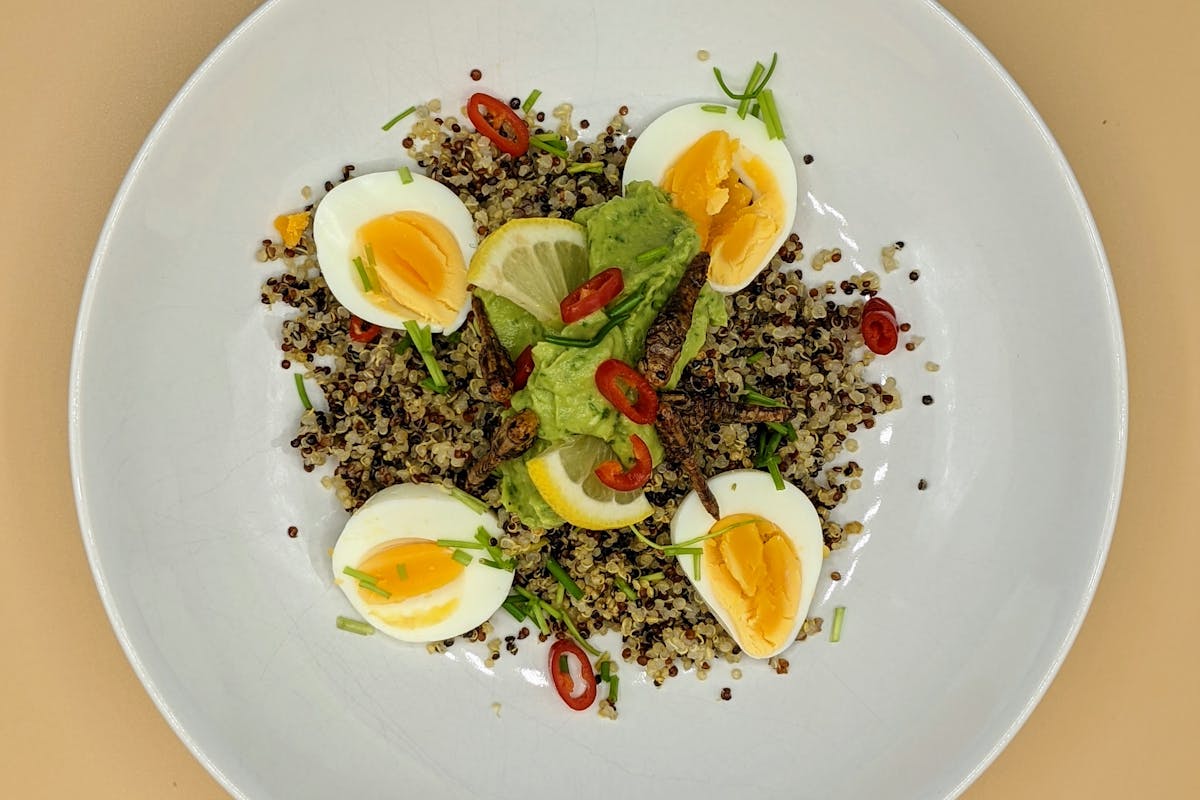 INGREDIENTS
20 g grasshoppers
1 egg
Half an avocado
Fresh chives
Up to 1 chili pepper
75 g quinoa
1 spring onion
Salt, pepper and tabasco to taste
Juice of half a lemon
PREPARATION
Cook the quinoa according to the instructions on the package and let them properly dry after
Boil the egg (5-6 minutes for soft, 7-8 minutes for hard)
Mix the avocado with lemon juice, tabasco, salt and pepper and most of the chives and mash a little for a chunky guacamole
Put oil in a pan and fry the dried quinoa with the chili and half of the spring onion for about 10 minutes
Put oil in a separate pan and fry the grasshoppers for about 8 minutes or until golden brown
Serve all together as a salad-like dish and give your tastebuds a healthy and spicy feast!
And it's not just the mix of spicy and fresh that make this "salad" a winner. This protein-rich recipe can either keep you full and fit for those last hours at work or be the perfect post-workout dish. Apart from soy products, eggs and quinoa are one of the few that contain all the nine essential amino acids and can therefore be called complete sources of protein. And guess what? Most of the grasshopper species are also complete sources of protein! In addition to an awesome source of protein, this recipe is full of vitamins and omega 3 from the eggs, plenty of fiber and micronutrients such as magnesium, potassium iron and zinc from the quinoa, grasshoppers and avocado. And one benefit to top it off: did you know that chili peppers can significantly increase fat burning and thus help to lose weight?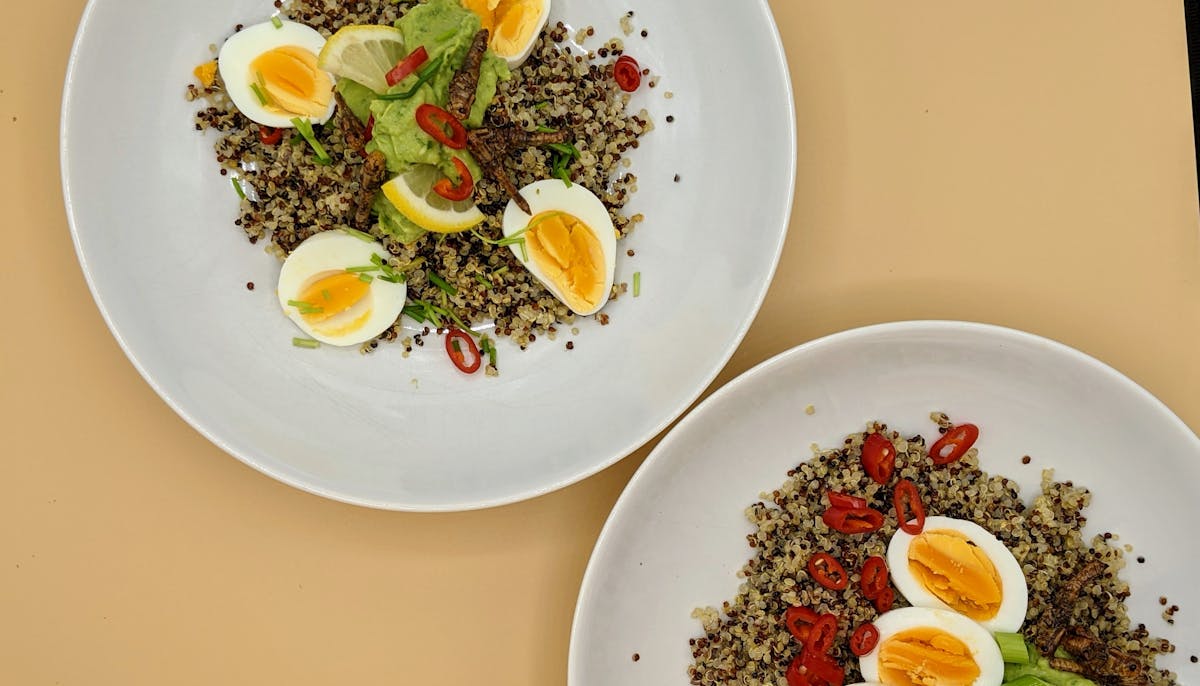 Enough with all the benefits this dish provides, it's time to cook and eat it! We really like to fry the quinoa in the pan for a while after cooking it according to the instructions on the pack. This gives it more of a crunch. If you're short on time though, simply cooking the quinoa also does the job. Apart from that, all you need to is boil an egg and fry those grasshoppers. The rest requires some chopping and a blender that does the work for you (or a fork and some power). For those who have plenty of time: roast that quinoa for longer than 10 minutes to also make the chili peppers blend right in with it and give it a proper toasted taste.
We like this dish for lunch a lot, which is also because it is a little low on veggies and thus not really something for dinner. But that can easily be solved as well. Chop some extra (yellow) onion, mushrooms and red or green bell pepper and fry it together with the quinoa and you've also got yourself a fully-fledged dinner. Let your tastebuds have fun!