Mac and Cheese is one of our favorite comfort foods for sure! Pasta and cheese are two of the best things in life, and the combination is better than the sum of its parts in this case. If making a healthier and protein-rich version of this staple is of any interest to you, then keep on reading!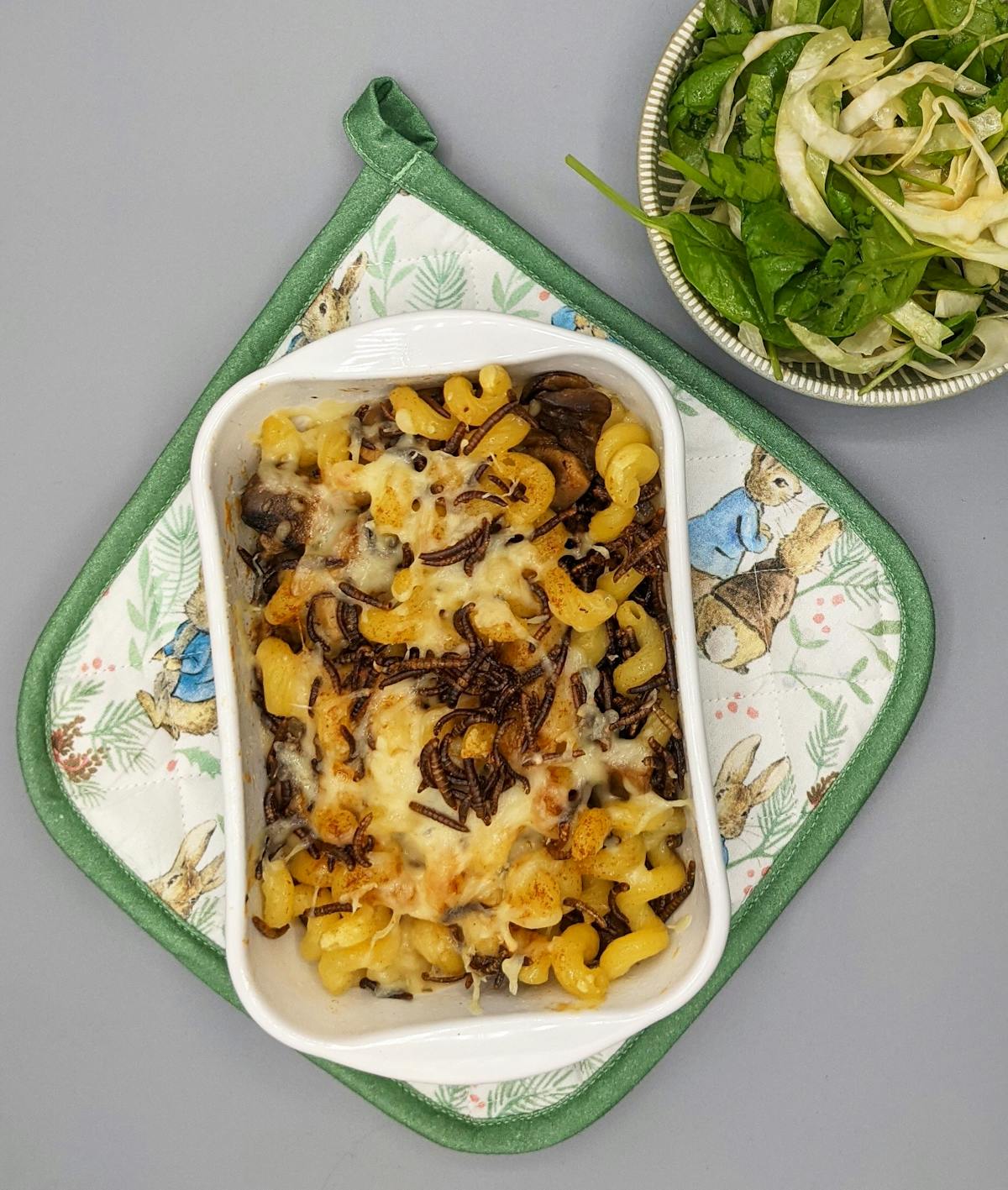 INGREDIENTS
300 grams of macaroni
50 grams of mealworms
300 grams of mushrooms
A massive amount (at least 250 grams) of your favorite grated cheese
2 tbsp of olive oil
3 tbsp of butter
2 tbsp of (mealworm) flour
600 ml of (oat/soy) milk
Salt, pepper, paprika and garlic powder
PREPARATION
Mix the olive oil and all the spices together in a small bowl and marinade the mealworms in it
Pre-heat the oven to 150 degrees
Cut the mushrooms in chunks
Cook the macaroni 1-2 minutes less than it says on the package
Fry the mushrooms on pretty high heat so they lose all their water
Melt the butter in a pot on low heat
When the butter is sizzling, add the flour and mix well for 1 minute
Gradually add the milk while stirring and keep the heat on until the sauce becomes rather thick and smooth
Remove from the heat and add half to two-thirds of your cheese
Mix pasta and mushrooms in an oven tray and pour the cheese sauce over it
Top with more cheese and the mealworms
Put in the oven for about 15 minutes so that the cheese is golden brown and the mealworms shiny and crispy
Sometimes you simply have those days where you feel like cheese. Lots of it. The answer in those cases is simple: Mac 'n' Cheese. Probably the most unviersally known comfort food, this dish needs absolutely no introduction. So get your favorite cheese or cheeses - we usually go with cheddar and parmesan, but other options like gruyère, mozzarella, gouda or others definitely also work - and give yourself a treat.
Often topped with bacon, we decided to do an ento version and top ours with mealworms. The creamy baked macaroni and cheese mixture works very well together with the salty and crunchy mealworms, giving the dish an extra touch. Serve together with a simple salad to get some veggies in or just don't and indulge in your cheat meal of the week!