Every now and then, you try something a little odd that turns out to be even tastier than you hoped for. Miso millet with spring onion and dates, topped with miso-mayonnaise crickets sounds pretty wicked right? Even though we cannot say it isn't, we can definitely show you how to make an awesome new lunch or brekky recipe out of these ingredients!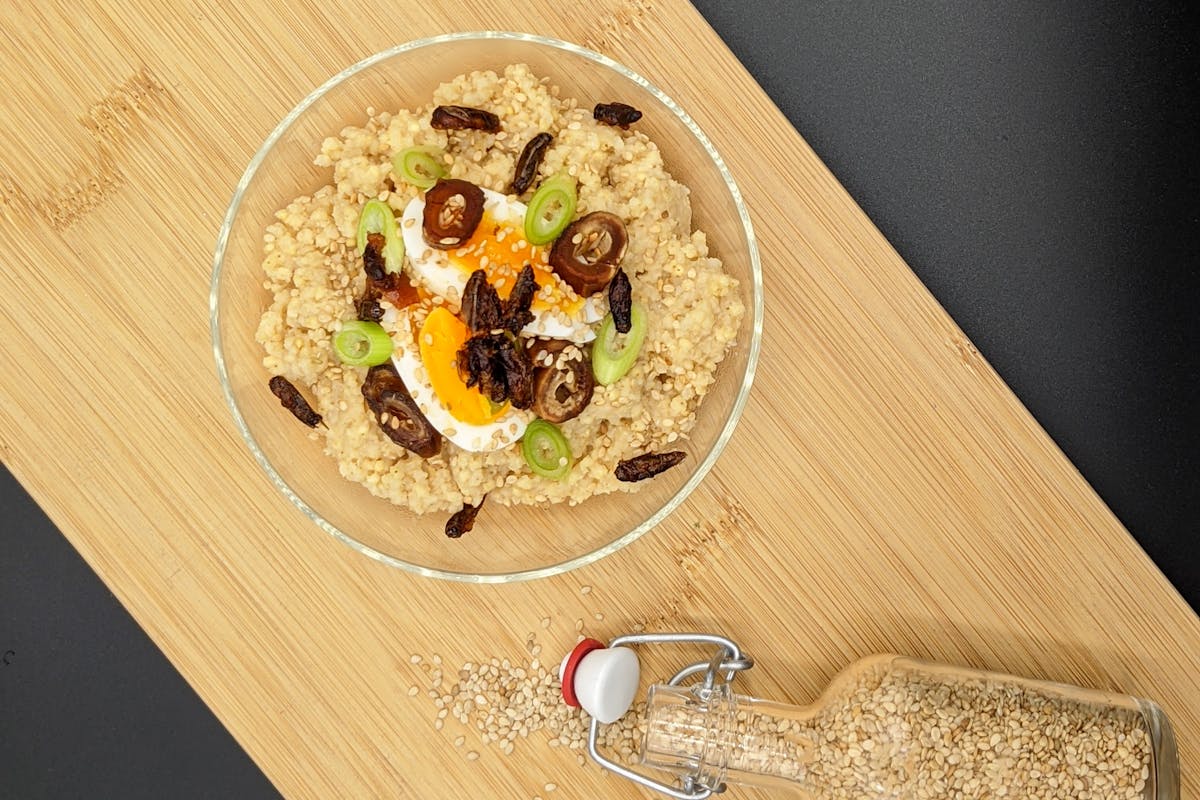 INGREDIENTS
2 tbsp of (white) miso paste
1 tbsp of (vegan) mayo
1 tbsp of olive oil
25 g of crickets
1 tbsp of soy sauce
2 tbsp of sesame oil
120 g of millet
400 ml of water
2 eggs
1 spring onion
A handful of dates
1 tbsp of sesame seeds
1 tbsp of syrup
PREPARATION
Mix 1 tbsp of miso, mayo and olive oil together and let the crickets marinade in it for 30 minutes (the longer the better)
Pre-heat the oven to 150 degrees
Heat up 1 tbsp of the sesame oil in a pot and roast the millet for a couple minutes
Add 1 tbsp of miso and roast for another two minutes
Add 400 ml of water and boil for about 10 minutes and then take off the heat
Put the marinated crickets in the oven for 10-12 minutes
Add 1 tbsp of soy sauce and sesame oil and let it rest for another 10 minutes
In the meantime boil your eggs to perfection, roast the sesame seeds, and cut the spring onion and dates
Add the dates, sesame seeds, spring onion and syrup to the millet and mix everything
Top with marinated crickets
Millet is a seed native to Africa and Asia that is barely used in the European kitchen. Before moving to Germany, Tom hadn't even heard of this seed, let alone ever ate it. Germany is actually one of the few countries where millet is a commonly used. Usually eaten sweet and boiled in water with for examples apples and cooled with honey afterwards, it can be used as an alternative to oats or muesli in your breakfast. Or in many recipes that use couscous or quinoa as a base, these can be exchanged for millet.
Even though local doesn't truly apply, we always like to work with ingredients and recipes from the local kitchen. And so we got ourselves some millet and went crazy. And truth be told: apart from the millet and the sweet taste there is not much German about this recipe - so much for sticking to the local kitchen.
So the millet is first roasted in sesame oil with some (white) miso paste, then enriched with soy sauce and finally topped off with some syrup to give it a rich flavour that is both savory and sweet. Together with some freshly cut dates and spring onion and a perfectly boiled egg you have the base for a cool new lunch recipe.
Finally the star of the show: the miso-mayonnaise-marinated crickets. Crickets are a very versatile ingredient that do not taste too strong on their own but take up a fair amount of flavour from whatever you season them with. Tom is a big fan of everything miso and the special and intense flavour of umami that it brings to the kitchen. And so we also wanted to try to not just use miso in a recipe but actually marinade our crickets with it. Miso paste itself is a little too thick and therefore not so suitable for a marinade (especially not for something tiny like crickets) but mixed together with some oil it works. Also add some mayonnaise and your crickets turn out to be salty yet creamy.
Top the millet mix with the marinated crickets and enjoy a creative and definitely different lunch (or breakfast if you really want to go wild) that is packed with protein!