Fried rice is one of the most famous Asian dishes that have made it across the globe. We dare you to go a step further and add another Asian delicacy to this renowned recipe: edible insects.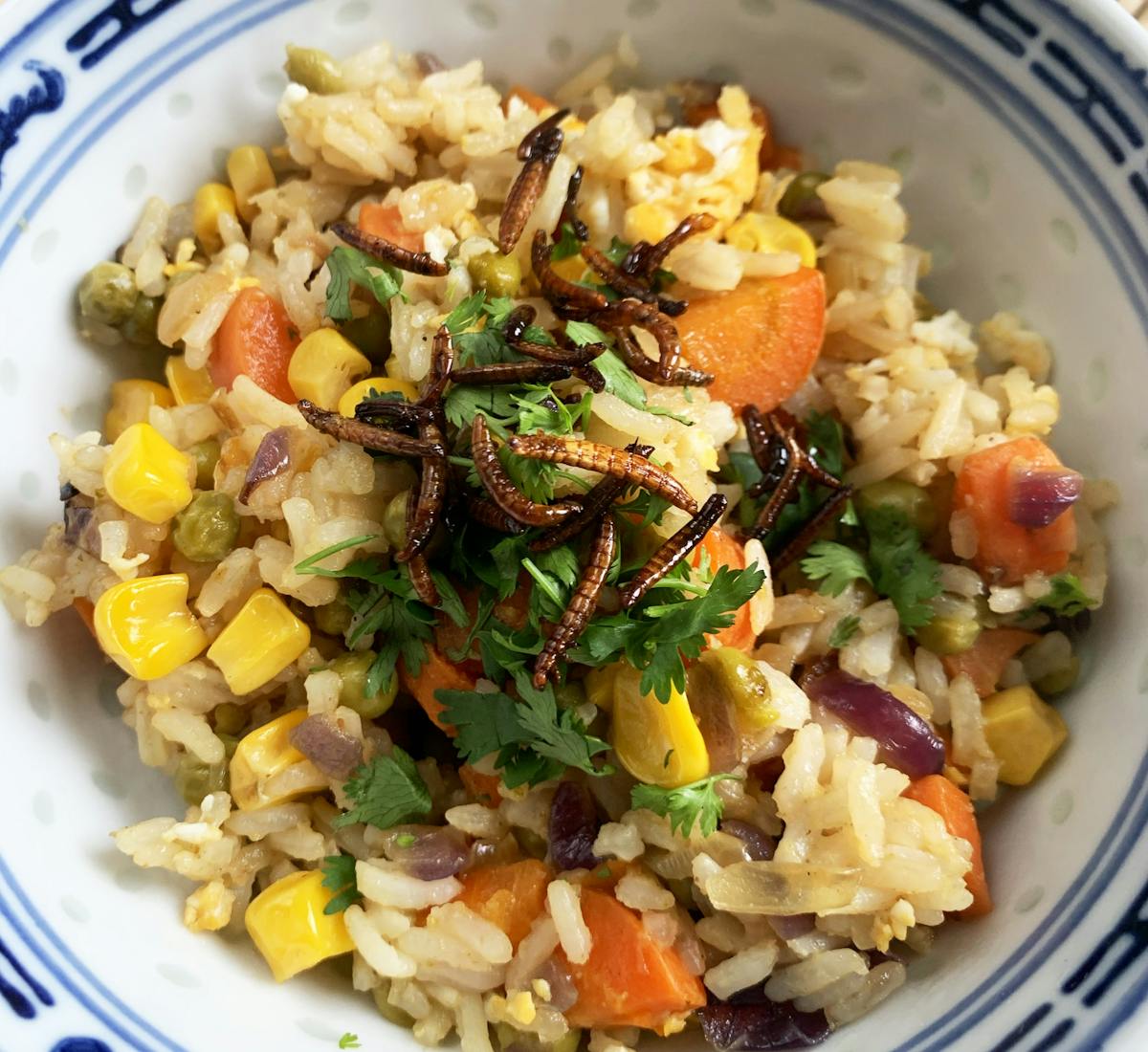 INGREDIENTS
150 g rice
2 different color onions (red/yellow/spring)
1 clove of garlic
150 g carrot
150 g green peas
150 g corn
50 g freeze-dried mealworms, crickets or grasshoppers
2 eggs
Fresh coriander
Sesame oil
Soy sauce
Salt, pepper, cumin, curry and chili powder to taste
PREPARATION
Cook your favorite rice according to the package, drain it and let it rest for a while
Cut the onion, garlic and coriander and prep the the insects if needed (e.g. remove wings)
Scramble the eggs in a small pan and set aside
Heat up the sesame oil in a wok and sautée the carrots, onions and garlic on medium heat and throw in the spices
Add the peas and corn when the veggies from the previous step are glazed
Start frying the freeze-dried insects in a separate pan for about 5-10 minutes depending on your insect of choice
Add the rice and eggs to the wok, don't be shy with soy sauce and fry everything together until the rice is golden brown
Top your fried rice with the insects and let the feast begin!
Fried rice is one of those perfect dishes that ticks all the boxes: it's fast, it's kitchen-fool-proof, and you can throw in such a wide variety of ingredients you can make it to anyone's liking. A basic but tasty fried rice recipe requires as little as some rice, eggies, and some veggies and spices of your choice. We would actually leave you with this, as the description of the recipe is already almost getting longer than the time to prepare it. However, there are two tips we would like to highlight that will further improve your favorite fried rice:
1. Sesame oil
You can use any oil you like for the veggies and rice in the wok, but sesame oil simply makes fried rice so much better. Just try it, the smell of heating it up alone will have you convinced already. Before you even ate it!
2. Dry rice
This one is more important: try to avoid using rice that is still "wet". Rice that has been cooked, drained, and set to rest for a while before frying it in the wok simply makes for a much better and crispier fried rice. When time is not of the essence, just cook the rice an hour beforehand and leave it aside. Otherwise, having some pre-cooked rice in the fridge actually works the best!