Marinated Grasshopper Pad Thai
Pad thai is a Thai gem: only thse thick and gooey rice noodles soaked in delicious pad thai sauce would already be worth eating. Topped with a bunch of eggs, veggies and peanuts, one of our favorite Thai foods is born. And so we couldn't wait to try our own insect-enriched version of it!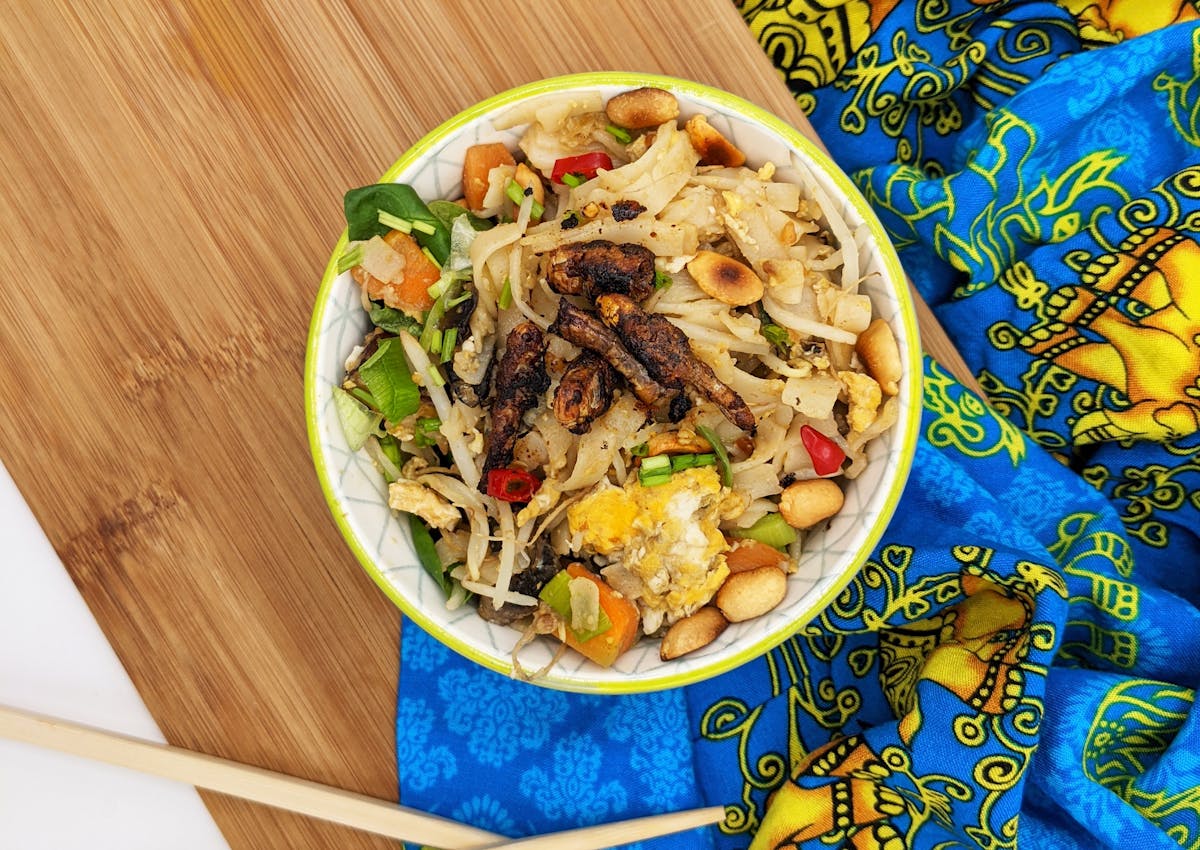 INGREDIENTS
300 grams dry rice noodles
100 grams of peanuts
4 tbsp of peanut or sesame oil
6 eggs
1 lime
400 grams of tofu
400 grams of bean sprouts
3 spring onions
3 big cloves of garlic
300 grams of carrot
Fresh chives, cilantro and ginger
50 grams of grasshoppers
4 tbsp of soy sauce
1 tbsp of hot sriracha sauce
1 tbsp of 100% peanut butter
1 tbsp of sugar
PREPARATION
Cook rice noodles according to the package, rinse with cold water and add 1 tbsp of oil to avoid them getting all stuck together
Mix together the soy sauce, hot sriracha sauce, peanut butter, sugar, 2 tbsp of oil, and juice of the lime
Take 1 tbsp of your homemade pad thai sauce and marinade the grasshoppers in it
Heat oil in a big frying pan, turn the heat up high and start frying the tofu until crispy
When the tofu is done, add the carrot, garlic and ginger and fry for about 5 minutes
Roast the peanuts in a separate frying pan
Push the contents of the pan to the side, crack open the eggs and scramble them in the middle of the pan
In the meantime, get a separate frying pan and fry the marinated grasshoppers
Toss in the noodles, bean sprouts, spring onion and what's left of the sauce and fry for another minute or two
Garnish with chives, cilantro, remaining lime juice and the roasted peanuts
Of course you can buy a ready-made Pad Thai sauce - and we will never say this is a bad thing - but trying your own gives you a lot of freedom to do a Pad Thai sauce of your liking. Whether you want it spicy, mild, sweet, or maybe just a massive amount of peanut butter (been there done that), you are the chef. But just so you can also go the original way: for the real deal you need tamarind (!), fish sauce, oyster sauce and brown sugar. Although not much, they are also not the typical ingredients you find in any German household for example. And so we propose a Pad Thai sauce made of soy sauce, 100% peanut butter, sriracha sauce and sugar. It is not the same, but comes pretty close to the mixture of sweet, spicy and salty that the original one gives you too - a sour touch might be missing though.
Tom likes it spicy and loves everything that includes peanut butter and so we throw in a bunch of sriracha and peanut butter, but the ratio of these ingredients is completely up to you. We just want to make one thing clear: Pad Thai is one of those recipes where you cannot have too much sauce. The gooey noodles soaked in your homemade sauce, combined with briefly fried fresh veggies and crispy marinated grasshoppers are a treat to your tastebuds!