Homemade Buffaloworm Bean Burger
It is arguably the best comfort food around: homemade burger topped with melted cheese that is dripping on your chin and fingers. Why? Burgers somehow invoke the association with eating as they did back in the days. A big patty topped with some veggies, cheese and sauce tucked into a burger bun that is best eaten with your bare hands but actually never fits into your mouth. Even better, it matches perfectly with crunchy fries that are also eaten without cutlery. Finger food at its best! This recipe shows you how to make your own crunchy but juicy nutty burger based on insects, adding another flavourful option to the range of burgers. Who ever thought that insects could be comfort food huh?!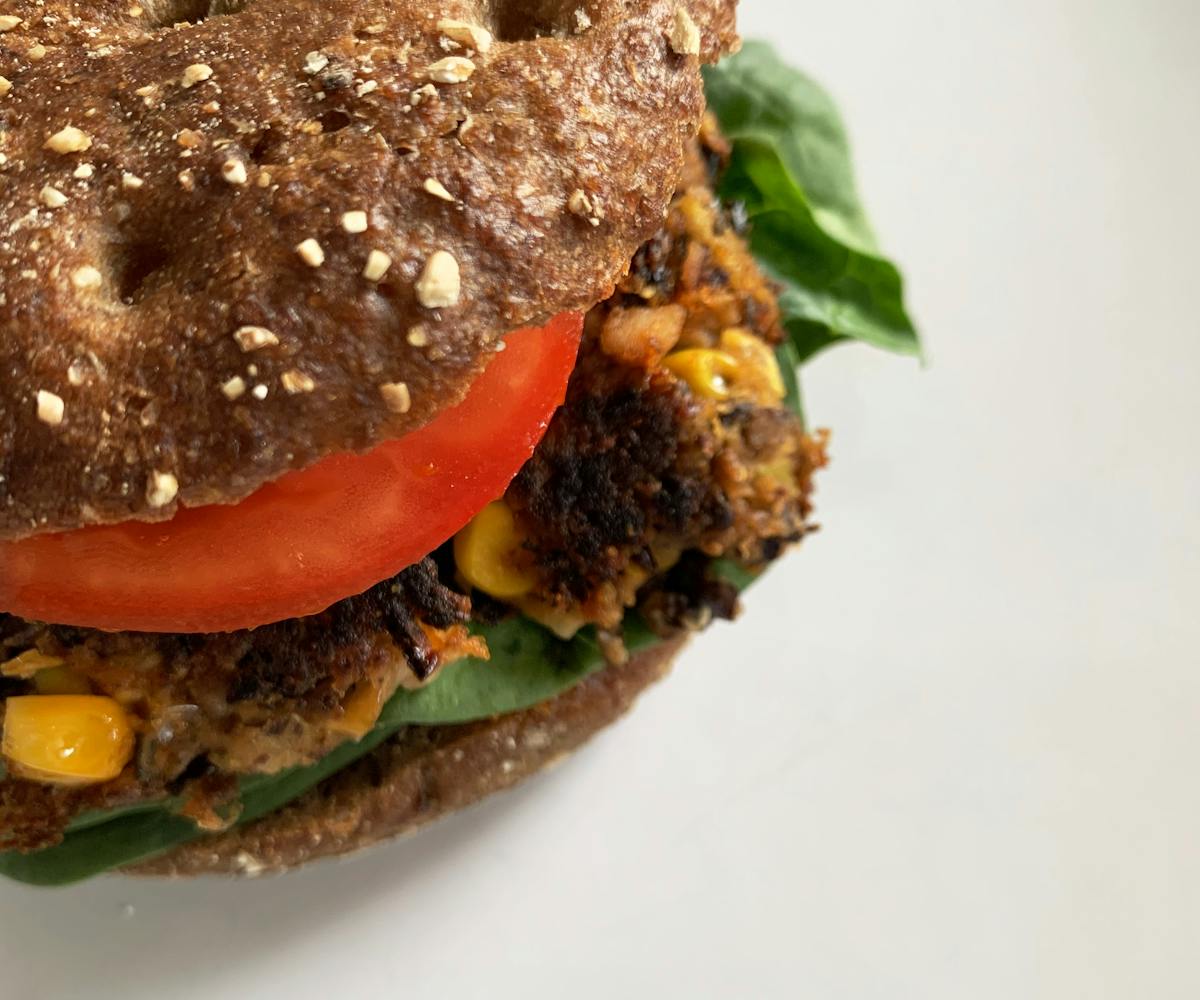 INGREDIENTS
2 tbsp buffalo powder
50 g quinoa
50 g bread crumbs
200 g (black) beans
5-10 pieces of sundried tomato
100 g corn
1 onion
1 egg
1 clove of garlic
1 beetroot
Salt, pepper, cumin, and paprika to taste
Juice of 1 lime
Oil
Add-ons:
6 slices of cheddar
6 burger buns
Toppings of choice
Your favorite sauce like mayo or ketchup
PREPARATION
Cook the quinoa according to the packaging and make sure to let them soak for a while so they have taken up all the water
Cut and mash the beans, corn, onion, garlic and beetroot in the meantime into small chunks
Add all the ingredients together in a big bowl and mix with a mixer or kitchen tool
Depending on preference either mix until smooth or leave some chunks in there to get a nice bite
Let the mixture rest for about half an hour in the fridge for the right texture after
Form around 6 burgers from the mix
Bake the burgers in some oil in a pan for about 4-5 minutes per side or until you're satisfied with a crispy and brown edge
Put the slice of cheddar on the patty for the last minute to sligthly melt it
Sun's out buns out, add your favorite toppings and get your hands dirty eating them!
Making your own comfort food kind of sounds like taking the comfort out of the food equation. After all, what's more comforting than having that shit delivered at home while you bingewatch Netflix? But making your own healthy (!) version of it can absolutely be worth it, as long as you do it right and are willing to go a little extra mile. Cooking your own burgers is not difficult at all, it just takes a little bit of preparation and time. Get all the ingredients you need, prep the quinoa and cut the other stuff in the meantime. Throw all of it together in a bowl and mix that stuff with a mixer until it is as smooth : as you envisioned it to be. Or if you feel like a workout in the kitchen: use a fork or even your bare hands to mash that shit!
We like keeping some chunks in there for a bit of a bite but feel free to play around with how smooth you like it. Somehow misunderstood the ingredients and fucked up the mixture or ratios of them? Anything can be salvaged so don't worry. If your mix is too wet, you can always add a little bit more insect flour or regular flour if you've emptied your resources. Is the mix too dry? Apologies, you fucked up big time anytime and will have dry insect burgers - unless you add a tiny bit of bean or corn juice. Don't just add water in this case, that will not do your burgers any good in the end.
Finally, go wild with spicing the burgers up. Start with a teaspoon of the salt, pepper, cumin and paprika and add more of whatever you like the best. We love cumin and paprika, for example, so add more of that stuff. Let it rest for a bit when you're satisfied and in half an hour you almost have your homemade buffalo bean burger.
Now the only thing that's left is the toppings, and that's completely up to you. Keep it standard with some lettuce, tomato, extra onion and a slice of cheese or go crazy and add anything you like. Enjoy!