The time of the year could not be more perfect. The days are getting shorter and colder, and halloween is right around the corner: it's pumpkin time! And if you have stocked up on fresh pumpkin and happen to have some left, then we have just the recipe for you. This pumpkin soup recipe is super creamy because of the pumpkin and coconut milk, protein-rich because of the cricket powder, and full of flavour.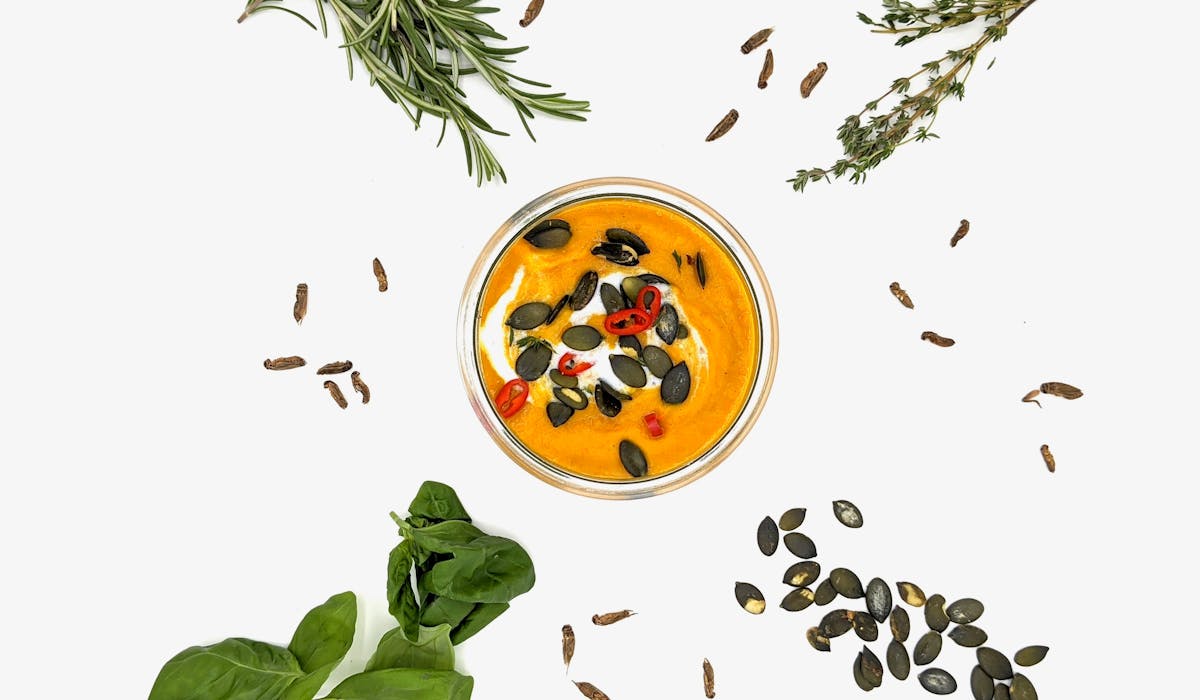 INGREDIENTS
700 grams of (hokkaido) pumpkin
350 grams of carrot
1 big onion
3 cloves of garlic
20 grams of cricket flour
2 cm of ginger
1 tbsp of soy sauce
500 ml of veggie broth
300 ml of coconut milk
Half a red chili pepper
1/2 tsp of cinnamon, nutmeg, tumeric, cumin, paprika, cardemom, salt and pepper
A handful of fresh basil and pumpkin seeds
PREPARATION
Pre-heat the oven to 200 degrees
Cut the pumpkin in chunks, put on a baking sheet, rub with olive oil and put in the oven for about 20-30 minutes (or until flesh is tender and can be easily pierced with a fork), set aside for a couple minutes after and peel if needed (hokkaido doesn't have to be peeled)
In the meantime finely cut the onion, garlic and ginger, and the carrot into chunks like the pumpkin
Put two tbsp of oil in a big pot and sautée the onion, garlic and ginger on low heat for about 10 minutes
Add the carrot and sautée for another 10 minutes
Add the (peeled) pumpkin, nutmeg, tumeric, cumin, cayenne pepper, paprika, salt, pepper, cricket powder and broth
Let everything boil again, and then simmer for another 15 minutes
Take the pot off the heat and let it cool for a couple minutes
Add 2/3 of the coconut milk and puree everything until creamy
Put back on the stove and heat up again for a couple minutes to make everything boil once more
Top with basil and pumpkin seeds and a tbsp of coconut milk per serving and enjoy a rich, creamy and slightly creepy pumpkin soup
Don't be too intimidated by the time you need for the recipe and the quite elaborative list of ingredients. Most of the time is spent waiting on the pumpkin to be roasted or your veggies being cooked and boiled. And the recipe calls for a massive batch to be made because the flavours blend together even better if you make it a day in advance. So double up on everything and have food for either a massive halloween party or yourself for an entire week.
The soup can be made with any pumpkin, but we like hokkaido the best. It also comes with an added benefit: if you wash it in advance you don't need to peel the skin. The skin of the hokkaido even tastes very nice and adds a little something to it. It goes right into the pot and the blender. If you have a different pumpkin though, make sure to peel it before you add it to the pot because you should not eat the skin.
And if you are throwing a party: even though we use cricket flour to have the taste mix in with the soup, make sure to top it off with some real crickets to give it an extra halloween-factor!