Crunchy Thai Mango Sticky Rice
Originally served cold as a dessert in Asia that can be found in many market stalls on the streets, mango sticky rice can be complemented with a lot of other great things to make it perfect as the main star too.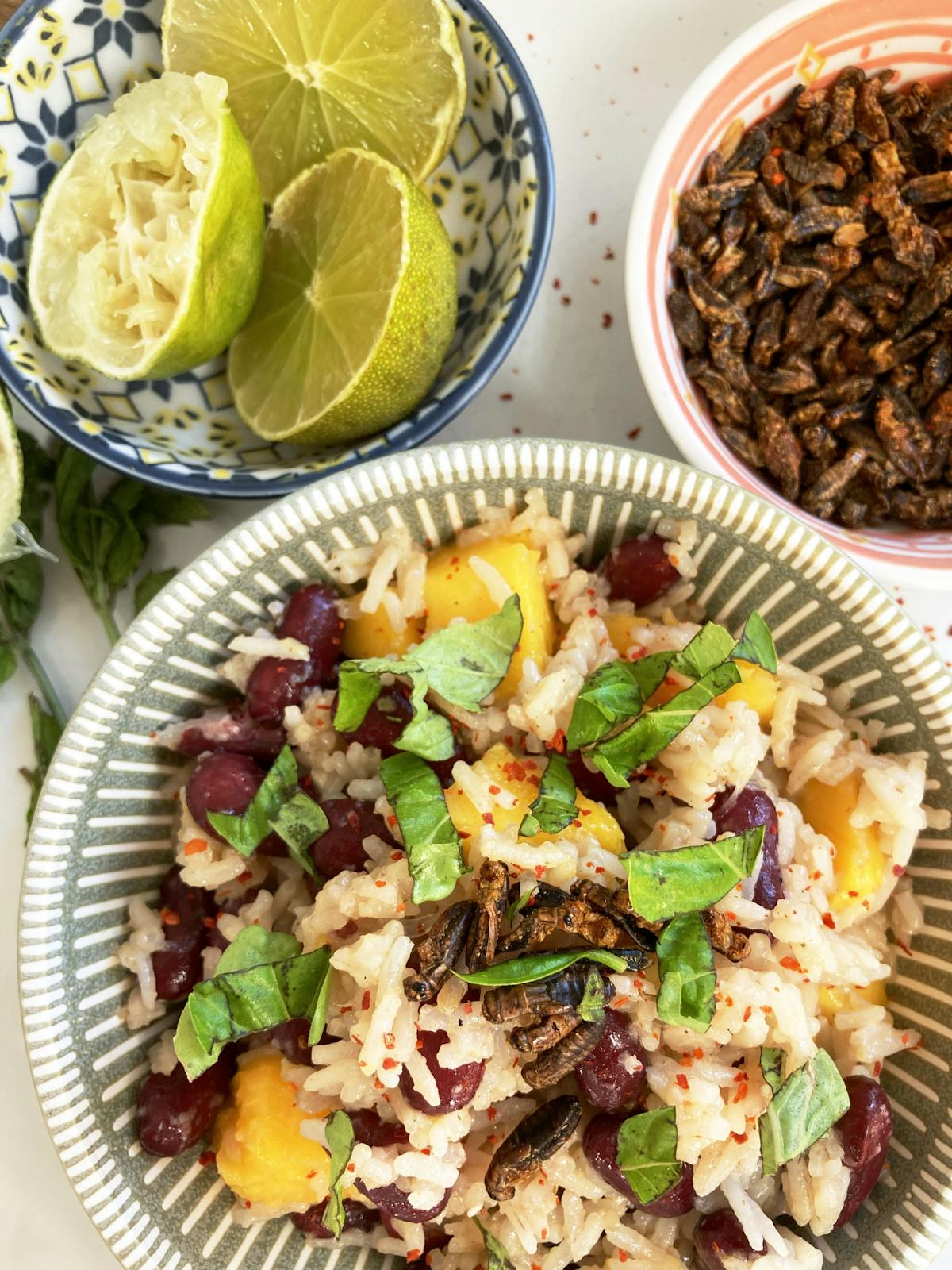 INGREDIENTS
200 g (short-grain) rice
250 ml coconut milk
A handful of grasshoppers, crickets or mealworms
300 ml veggie broth
1 mango
1 can (400 grams) of kidney beans
2 cloves of garlic
Fresh ginger
1 red/yellow onion and 1 spring onion
1 lime
Salt, cayenne pepper, paprika and chili powder, and rosemary
PREPARATION
Cut the garlic, onion and the ginger in small pieces
Heat up oil in a large pot and glaze the cut veggies for a couple minutes
Add the rice for a minute or two until it smells a little toasted
Add the coconut milk, veggie broth and all the herbs and spices and bring to a simmer
Turn to a very low heat and wait for about 30 minutes or until the rice has absorbed all the liquid
In the meantime, cut the mango into pieces and prepare and fry your creepy crawler of choice
When the rice is tender and done, add the beans, mango and lime zest and juice
Keep the heat for a couple minutes to let all these mighty flavours combine
Top the sticky rice with insects
Good artists copy, great artists steal. Originally ascribed to Pablo Picasso and later also used by the infamous Steve Jobs, we consider ourselves great artists too and steal from the best. There is not much about this recipe that we actually invented, we simply used many good things of existing recipes, combined them, added some mealworms and grasshoppers and called it our own! It can be as simple as that.
The first time we ever had mango sticky rice was in Thailand on our trip through South-East Asia from a random market stall on the street. From that point on, we were hooked. The Thai dessert requires only a handful of ingredients: rice, water, coconut milk, salt, sugar and mango. Truth be told: somehow we never managed to make the dessert as tasty as we got it from the street in Thailand, so we might miss some secret but crucial ingredients - let us know if you have the answer.
A couple months after our trip, we went through our favorite recipe book from Bad Manners (previously known as Thug Kitchen, and we highly recommned you check them out) and stumbled upon "Coconut Lime Rice with Red Beans and Mango". How could we have never thought of making that awesome dessert into a potentially even better main dish? So once again, we have taken a recipe from Bad Manners as the base and adapted it a little to make it one of our own favorite recipes around.
Plus: it is also super easy to make and can almost be done as a one-pot recipe. The sticky rice works the best with a short-grain rice since long-grain rice doesn't soak up as much of that delicious coconut milk. Meaning: short-grain rice simply becomes a lot stickier (a little like milk rice for example). Because the beans are done already, and the spring onion should be fresh, it all just needs to be mixed in the end with the mango in the big pot of sticky rice. Other fresh and easy veggies like tomatoes, bean sprouts, or any other bean also work a treat in this recipe to mix it up every now and then. The only thing you need a separate pan for are the insects giving you a dessert with a protein boost that you will never just eat for dessert anymore!