Crispy Buffaloworm Falafel Wraps
Falafel can be made into a full protein-boost you're looking for by adding a little bit of insect powder to spice it up.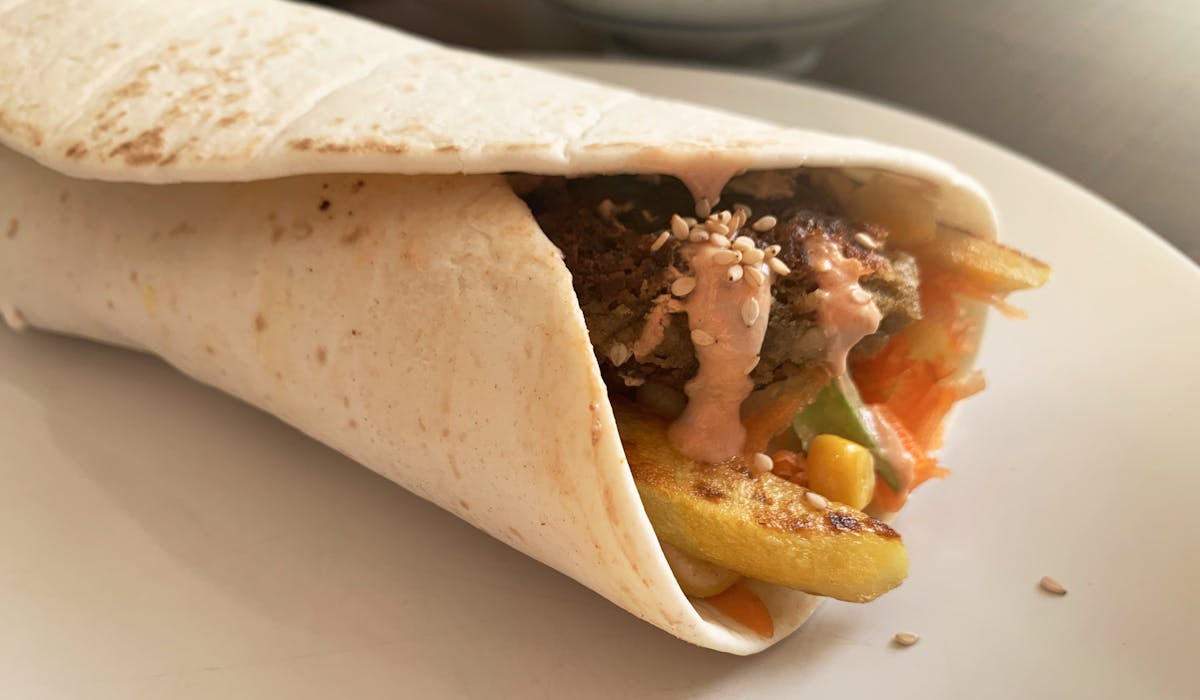 INGREDIENTS
2 tbsp of insect powder
2 tbsp of flour
50 grams of fine oats
2 cloves of garlic
1 onion
1 can of chickpeas (250 grams drained)
Cumin, chili powder, salt and pepper
Cilantro and parsley
4 wraps
Your favorite sauce and toppings - recommendations follow!
PREPARATION
Mix all the spices together
Add the other dry ingredients to it except for the flour
Process the shit out of it with a food processor while gradually adding the flour
Let it rest in the fridge for about half an hour
Make balls or any form and shape you feel like out of the doughy stuff
Bake until golden brown in a pan (about 3-4 minutes per side and they're nice and crunchy)
Get your dressing and toppings and garnish that falafel wrap!
Wraps are our fallback on many occasions when we have no clue what to eat. They're easy to prep (even Johanna manages), have a neutral taste and you can basically stuff them with anything you like - even fries as we will show. The wraps in this recipe are our mixture of toppings we like and falafel upgraded with some insect powder. The falafel is not hard to do and all you need to do is mix the dry ingredients together.
To further spice it up and give the insect falafel a Mexican touch (Mexicans love their insects after all) add taco flavouring. Put the falafel mixture in the fridge for 30 minutes, then form the shapes you like, bake them and they are ready to be killed!
We topped our wraps with shredded carrot, corn, lettuce and sliced tomato and our special ingredient: homemade fries! Especially sweet potato fries are an absolute winner addition to this dish. To top it off, we make our own yoghurt sauce from yoghurt, olive oil, lemon juice, cumin, salt, pepper, chili and some ketchup.