Pasta pesto is one of the easiest but still tastiest dishes around. It literally just takes cooked pasta and a good pesto, and dinner can be served. Gaining inspiration from the original pesto region, we went home to our own kitchen and turned pesto into an equally tasty sauce but this time based on a veggie and full of protein!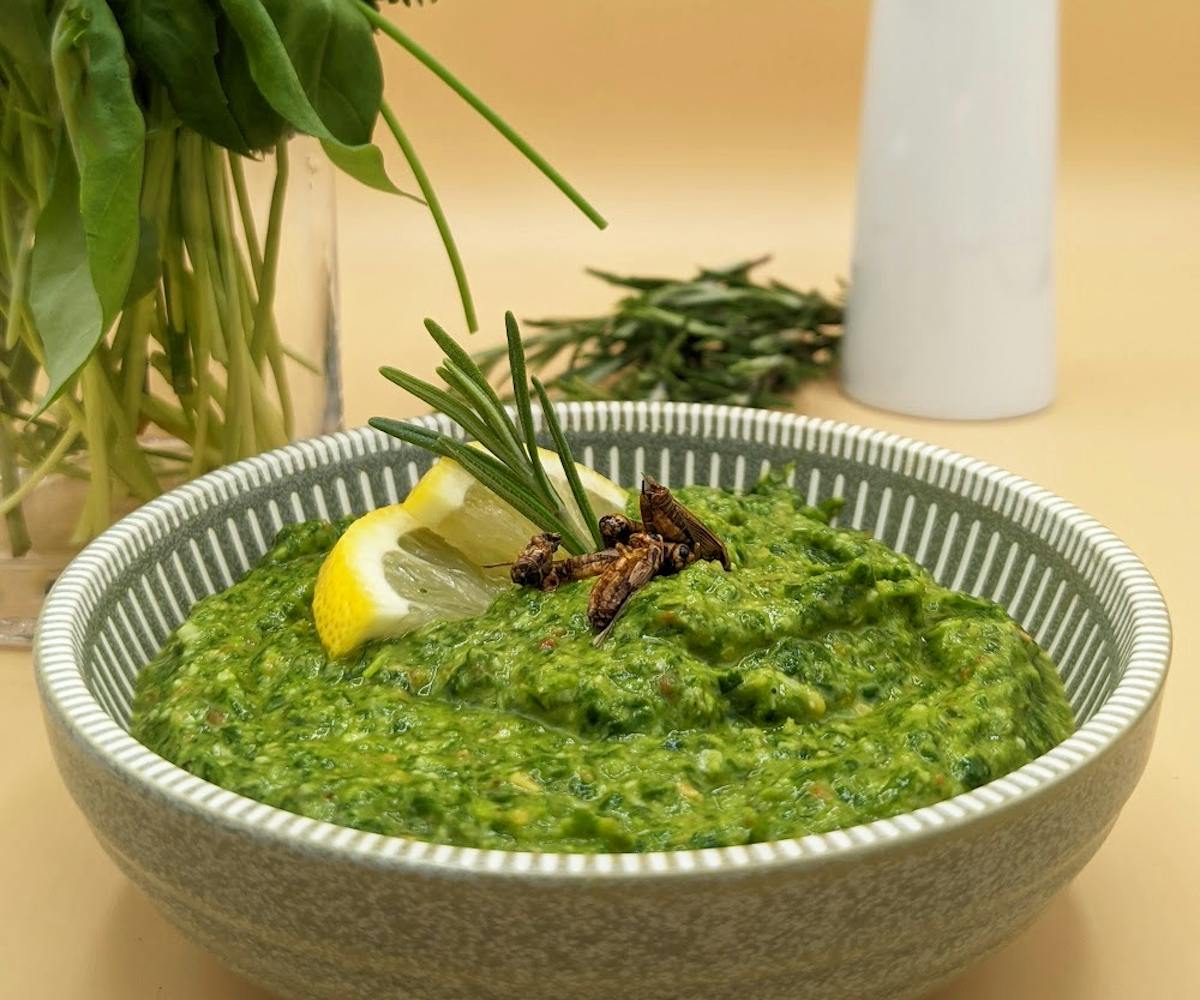 INGREDIENTS
100 grams of rocket
100 ml olive oil
25 grams of pine nuts
Juice of half a lemon
25 grams of parmesan
One sprig of fresh rosemary
Salt and pepper to taste
2 cloves of garlic
15 grams of cricket flour or whole crickets
PREPARATION
Roast the pine nuts (and crickets if you use whole crickets) goldenbrown in a pan
If you use cricket flour, heat up the cricket flour wrapped in tin foil for about 15 minutes at 150 degrees
Throw everything in the blender and mix
Refine your pesto with salt and pepper if needed
Serve quick and fresh!
Pesto is another one of the many gems coming from the Italian kitchen. Having tasted the original Pesto Genovese on our trip through Italy we were reminded of how awesome selfmade pesto can be. You can buy a decent pesto at any supermarket, but when you've tasted the fresh stuff, you also remember the differences there are to it. Knowing we could never improve that original recipe, we tried to do it a little different and make our own version out of it.
To give it a tasty and healthy twist, we replaced basil with rocket and added some lemon juice and rosemary. We don't want to invent the wheel again when it comes to pesto, so we keep the rest of the recipe the same. Add some cricket flour to the blender, and you have yourself a healthier, protein-richer and interesting alternative to the original pesto recipe.