This risotto alternative that is made with orzo instead of rice is a simple one-pot recipe that is full of color, has a rich and creamy sauce and tops it all of with crunchy crickets that are roasted in the same skillet.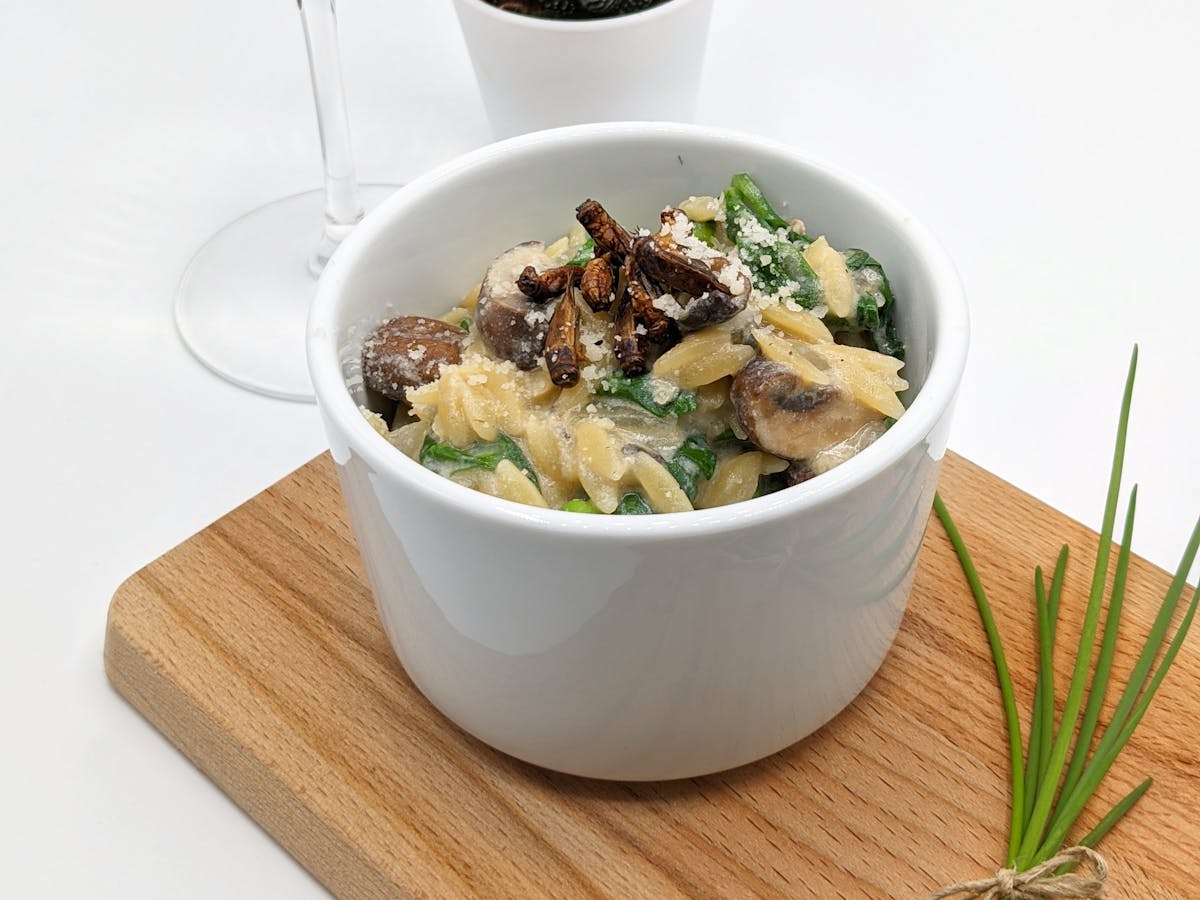 INGREDIENTS
50 g crickets
400 g mushrooms
1 big onion
200 g spinach
200 g peas
300 g orzo
4 cloves of garlic
100 grams of parmesan cheese
300 ml soy/almond milk
500 ml veggie broth
250 ml white wine
1 tbsp of salt and pepper
PREPARATION
Cut the mushrooms, onion and garlic
Heat up oil in a big oven-proof pan or skillet and start frying the onion and mushrooms for about 8 minutes on medium heat
Add the garlic, salt, pepper and orzo for another 3 minutes to slightly toast the orzo
Now add the milk, broth and wine and bring to a boil
Pre-heat the oven to 150 degrees
Turn down the heat to a simmer, and stir often to let the orzo absorb most of the liquid
Remove from the heat after about 10 minutes (or: five minutes less than the packaging tells you to cook the orzo if this is different than 15 minutes) and stir in spinach, peas and half the parmesan cheese
Sprinkle crickets and more parmesan on top and put the skillet in the oven for another 12 minutes
Enjoy a creamy skillet orzotto topped with crunchy grilled crickets and cheese!
The fun in cooking is in being creative and trying out some new and out of the ordinary things every now and then. And sometimes creativity requires a little bit of foul play. Truth be told: the orzotto we'll be cooking here is neither a real orzotto nor a risotto. But we've used orzo and prepared it in a risotto-fashion: hence our own orzotto. Risotto is the famous and delicious Italian dish of course where rice is cooked with (usually) broth, wine and cheese to achieve that awesome consistency. The actual orzotto is a variant of risotto where the rice is replaced with pearl barley.
Our orzotto, however, is made with orzo instead of rice. Orzo originally comes from Greece and is a type of short-cut pasta that looks like a big grain of rice. And what's not to like about incognito pasta in a dish that in the end still looks exactly like you made risotto but tastes a tad different?
This recipe is perfect for those evenings where you long for simple comfort food. All you need is one big skillet and about 45 minutes of time. The skillet is perfect because you can first use it to do the orzotto as a one-pot recipe where you just toss in one ingredient after the other (do follow the preparation order please) and let all of those flavours combine. The creaminess of this orzotto comes from the mixture of broth, white wine, and milk (we usually use soy milk). When the orzotto is almost done simmering, you coat it with a tiny layer of parmesan and some crickets on top. Add a pinch of salt and pepper to the crickets and put that skillet in the oven to get a creamy roasted orzotto skillet!