Semmelknödel is a typical southern German/Austrian dish and refers to bread dumplings. We add cricket flour to give our knödel a welcome vitamin and protein boost.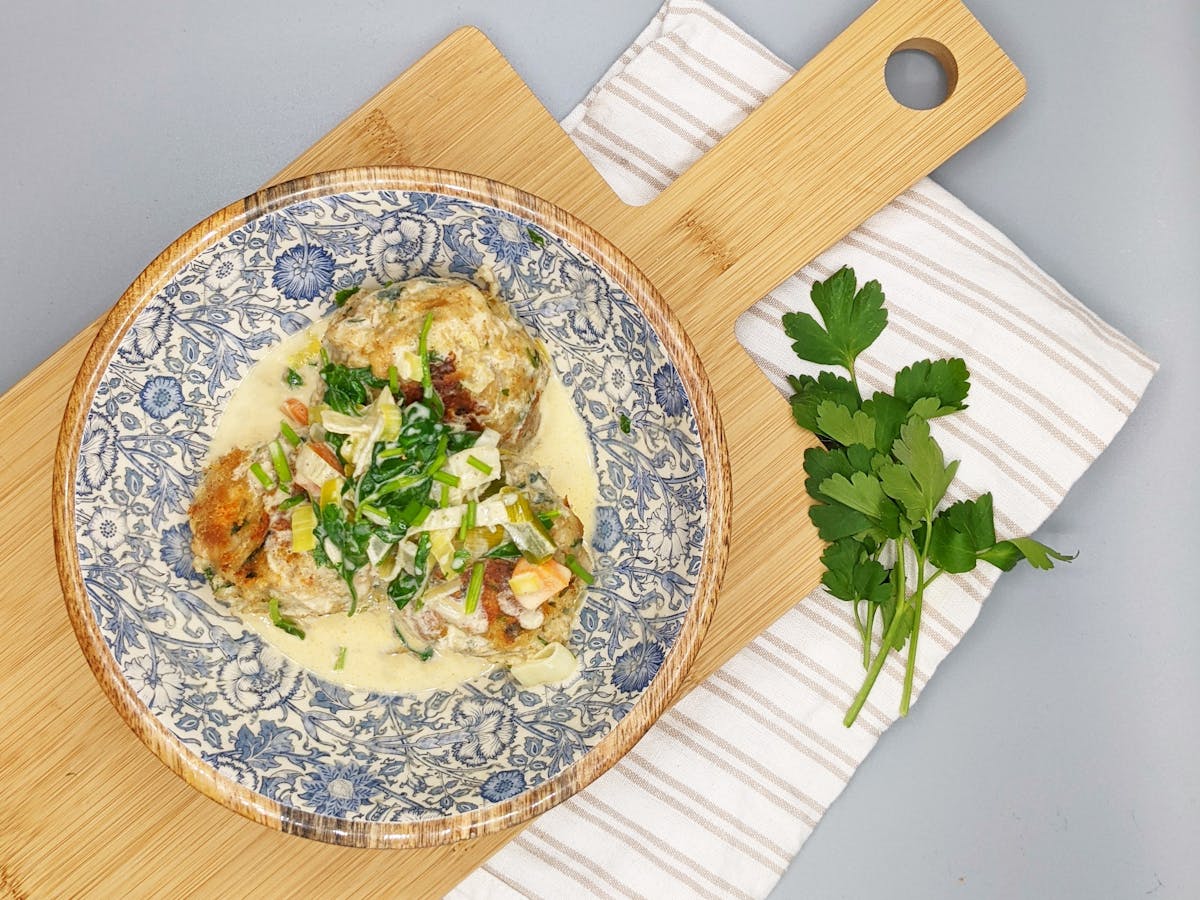 INGREDIENTS
Knödel:
25 g of cricket flour
200 g of (old) toast
2 eggs
125 ml of milk
1 big white onion
50 g of fresh parsley
A handful of fresh chives
2 tbsp of butter
1 tbsp Salt, pepper, paprika, garlic and muscat
4 tbsp of semmelbrösel
Creamy sauce:
1 tbsp of oil
1 carrot
1 leek
200 g of spinach
200 ml of (vegan) cooking cream or crème fraiche
PREPARATION
Start with the knödel, tearing apart the toast in small pieces and throwing them in a bowl
Finely cut the onion and parsley
Melt the butter in a pan and sautée about half of the onion and parsley for a couple minutes
Heat up the milk and add the milk, sautéed onion and parsley, cricket flour and salt and pepper to the bowl with toast
Mix everything and let it rest for 10 minutes
Crack and whisk the eggs and add it together with the semmelbrösel to the bowl as well
Mix everything properly, get your hands wet (literally) and form 8-10 knödel out of the mixture
Put the knödel in boiling water and, once they're in, immediately reduce the heat so the water is just hot but not boiling and leave for 20 minutes
In the meantime clean and cut the carrot and leek in very small chunks
Heat up oil in a big pan and fry the other half of the onion, carrot and leek for about 5 minutes
Add the cream and 100 ml water and spice it up with salt, pepper, garlic, paprika and muscat
Lower the heat and leave the sauce in the pan for 15 minutes
When 20 minutes are over, take the knödel out of the water
If you like a crunch, they get even better if you fry them in a pan on high heat for 5-10 minutes after
Add the remaining parsley and the spinach to the sauce, and mix until the spinach has shrunk
Take both pans of the heat and enjoy cricket knödel with a creamy veggie sauce!
Originally, the word semmel actually means some kind of bread rolls and knödel refers to something that is kneaded. Combine the words and you have a bread version of meatballs. Every time we are around, we definitely get some, because we absolutely love them. You can use them as a replacement for pasta or potato and cover them in a sauce you like as the base of a dish, as the base of an auflauf (casserole), or actually as a replacement for meat or meatballs.
And although we love every version or usage of semmelknödel, sometimes we miss one thing: protein. Especially if we use it as an alternative for meat, it unfortunately becomes a primarily carb-rich one. For us that sounded like the perfect opportunity to try and add some cricket flour. And so we did! No worries, this is not an attempt to completely revolutionize Semmelknödel: we have basically just added cricket flour to the usual recipe. Sautée the onion and parsley, and mix with warm milk, toast, cricket flour, eggs and semmelbrösel together in a bowl to form dumplings of your preferred size.
While the dumplings are cooking, prep the creamy sauce and simply let it simmer for as long as you like. Usually, semmelknödel are not fried, but we love a nice crunch and the added flavour that comes with it. Put some oil in a pan, and fry them for 5-10 minutes on relatively high heat to give them a brown and crispy skin.
Get some dumplings on your plate or bowl, flood them in that creamy sauce and dig in!