Everyone loves a good tiramisu! But when you top this dessert with some crunchyness, it gets even better.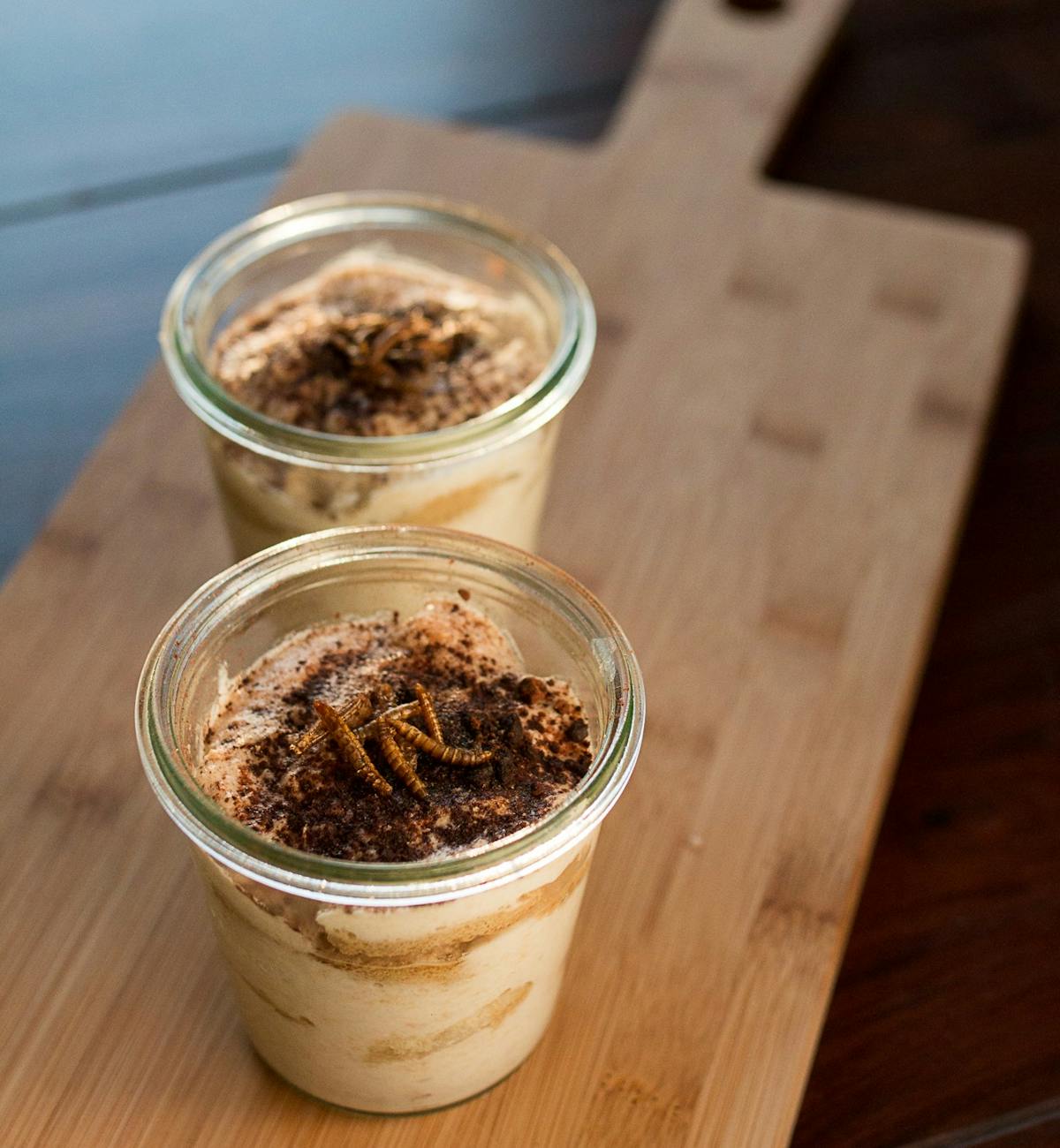 INGREDIENTS
20 grams of mealworms
200g of cashews
100ml oat milk
5 tbsp of agave syrup
3 tbsp of coconut oil
Half a tsp of salt
One pack of vanilla sugar
1 tsp of lemon juice
Solid layer of coconut from two coconut milk cans (400 ml each)
2 tbsp of sugar
1 pack of ladyfingers
175ml of espresso
4 tsp of Amaretto
Cocoa powder, for dusting
PREPARATION
Soak the cashews in water overnight. Put in the fridge to keep them cool
To get a creamy coconut milk, put the can in the fridge overnight - its worth it :)
Blend the cashews, oat milk, agave syrup, coconut oil, salt, vanilla, and lemon juice until smooth
In a separate bowl, mix only the solid layer from the coconut milk with the sugar and mix the hell out of it for about 2-3 minutes
Combine the two and set aside
Pour the espresso, water, and Amaretto in a shallow bowl
Time to assemble the goodies! Start with a layer of cashew-coconut mix, then a layer of ladyfingers dipped in the espresso mix and repeat until you used up everything - make sure to finish with the cashew-coconut mix on top.
Now keep cool (preferably in the fridge) for at least 2 hours
Heat up your favourite mealworms until warm and crunchy
Before you enjoy this deliciousness, dust the top with cacao power and a handful of mealworms for the extra crunch!
We always loved eating Tiramisu - when Johanna was small, she stole bits and bites from her parent's dessert plates. Now that she is finally old enough (only physically unfortunately) she tried preparing the Italian deliciousness herself. And it turned out to be pretty tasty. As we both love to try traditional recipes in a slightly different way, and not by adding insects only, this tiramisu does not contain mascarpone but soaked cashews and coconut cream that provide the creamy texture. So this dish not only tastes good, but also looks its part and fully deserves the entovegan stamp. So get your taste buds ready and dig in!