Tested: Isaac Oat Protein Bars
TL;DR:
The well-balanced insect protein bars from Isaac are tasty and will help you prepare or recover from any hard workout.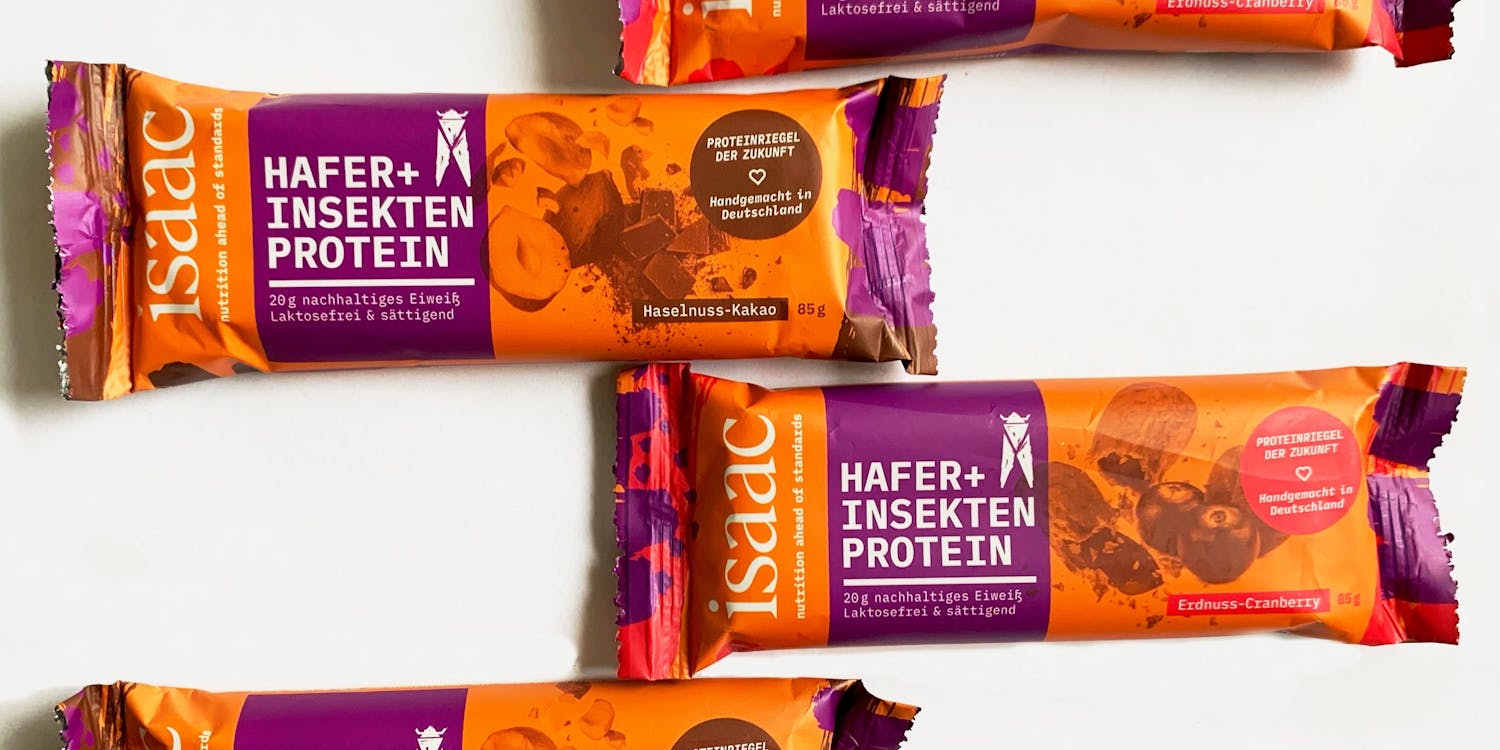 The peanut-cranberry and hazelnut-cacao bars are healthy and tasty!
Isaac promises functional food that is not only good for you but also good for the environment. The oats & protein bars are one of the star products in their shop aiming to deliver this promise.
Whether as a pre-workout snack to give you a welcome energy boost or a post-workout snack to get the required protein-intake for recovery, these bars are the perfect food around your workout! And all of that is handmade in Germany, crafted with carefully selected materials.
Sounds too good to be true? Read on and find out.
The (boring) facts
The oats & protein bars come in four varieties: hazelnut-cacao, peanut-cranberry, macadamia-salted caramel and cashew-blueberry. Apart from the ingredients that make up the difference in flavours, the base of all four bars is very similar. As can be expected from an oat-protein bar, the bars are primarily made of oats (21%) and a mix of insect protein (12% of the bar is from buffaloworm protein powder) and pea protein isolate.
Interesting sidenote: even though 12% of buffalo worms protein powder doesn't sound like much, this is actually higher than usual. Most of the insect bars around (whether protein, energy or snack) are made of only 10% of insects.
In addition to the oats and protein, the bars are stuffed with different fruits and nuts to give them their specific flavours and all of them are topped off with a cacao coating. One oat protein bar of 85 gram provides you with the following nutritional values:
235-275 calories per bar
20 grams of protein from the buffalo worm and pea protein powder
14-17 grams of carbs of which little is sugar and mostly carbs from the oats
7-11 grams of fat from the nuts
All in all, we would conclude that the bars contain a very well-balanced mix of long- and short-term energy sources, insect powder as a source of complete protein and nuts for those healthy fats.
But how does it taste?!
Isaac recently launched two new flavours: the macadamia-salted caramel and the cashew-blueberry. Unfortunately we haven't had tried these yet, but we happily report you here of our thoughts about the hazelnut-cacao and peanut-cranberry bars.
Let's begin with the hazelnut-cacao bar. The saying "it's all in the name" is bascially all we want to say here. Do you like hazelnut and cacao? Then don't miss out and get yourself a batch of these bars! Hazelnut is the most-present taste that is topped with a choco flavour from both cacao powder and the cacao coating. The bar is pretty moist and smooth, making it easy and pleasant to eat too.
The peanut-cranberry bar definitely has a more 'complex' taste. The most interesting thing about this bar is that it immediately reminded the both of us of eating a Snickers bar! Peanut and cacao are the primary tastes and create the resemblance to Snickers - which we liked a lot! We would even go as far as calling it an improved Snickers bar as it also not so overly sweet - apart from some hints of vanilla. As the name implies, we also expected some bitter or sourness because of the cranberry. However, we did not taste this at all, potentially because the taste of cranberry was overshadowed by our Snicker feeling - which is far from a bad thing.
Overall, we would highly recommend the hazelnut-cacao bar if you're into hazelnut and cacao (a better advice is hard to find). And if you want to relive the days as a child of eating Snickers, but in a healthy way, then look no further and get yourself a box of those peanut-cranberry bars. We will definitely keep them in our arsenal of workout snacks, and are looking forward to trying the two new versions soon!