TL;DR:
Pack these bars in your bag if you need a healthy and tasty snack that keeps you going during your busy days.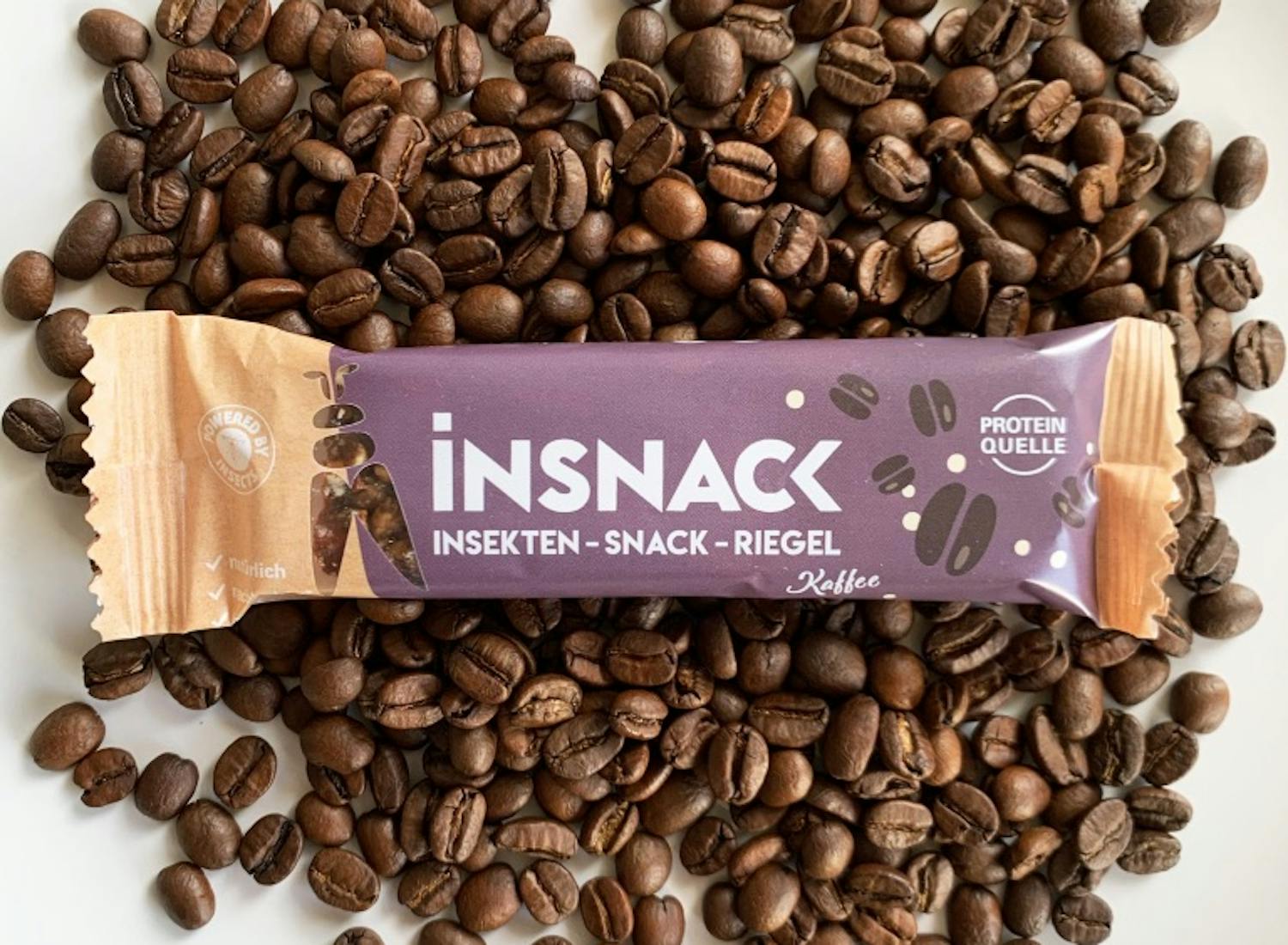 The tasty and crunchy Coffee Insnack Bar
Insnack
From hip Berlin is the next German company making the world a more sustainable place selling edible insects: INSNACK. Driving the pioneers are the health and sustainabiliy aspect of insects. After all, this powerfood is full of vitamins, super protein-rich and beats common protein-sources in terms of resources by miles and miles.
As the name implies you can expect an assortment of snacks with insects at the basis: insect energy bars, protein flips made of buffalo worms and roasted crickets in different flavours. But you can also get freeze-dried insects to use at home. Being a couple years underway, Insnack products made their way into the supermarkets. As we're writing this they are available in a number of EDEKA supermarkets in Berlin.
The first range of products we're reviewing from Insnack: Insect Snack Bars.
The (boring) facts
Because one and two are not enough, Insnack has three different insect bars in its assortment: Coffee, Apricot - Physalis and Matcha - Sesame. The main ingredient, depending on which flavour you choose, is cashew or almond. Filled up with more crunchy goodies like hazelnut and Brazil nuts, nuts make up 30 to 60 percent of the bars.
Nuts are one of the best snacks around and are therefore a good base for this bar. Complementing the nutty flavour are sweet flavours coming from fruits, agave and rice syrup. Rice syrup is not very well-known yet but has gained a bit more attention recently as it is considered a vegan-friendly alternative for other syrups or honey.
Last but not least, you also get a (small) protein fix because 4% of every bar is made up of cricket flour. In a bar of 35 grams, thus, you get about 1 gram of complete and sustainable protein from these little buggers.
Overall, one bar provides you a very well-rounded average of 175 calories made up of the following:
10 grams of primarily healthy fats from the nuts
15 grams of carbs of which half are sugars from fruits and syrup for the energy boost
6 grams of protein from insect and nuts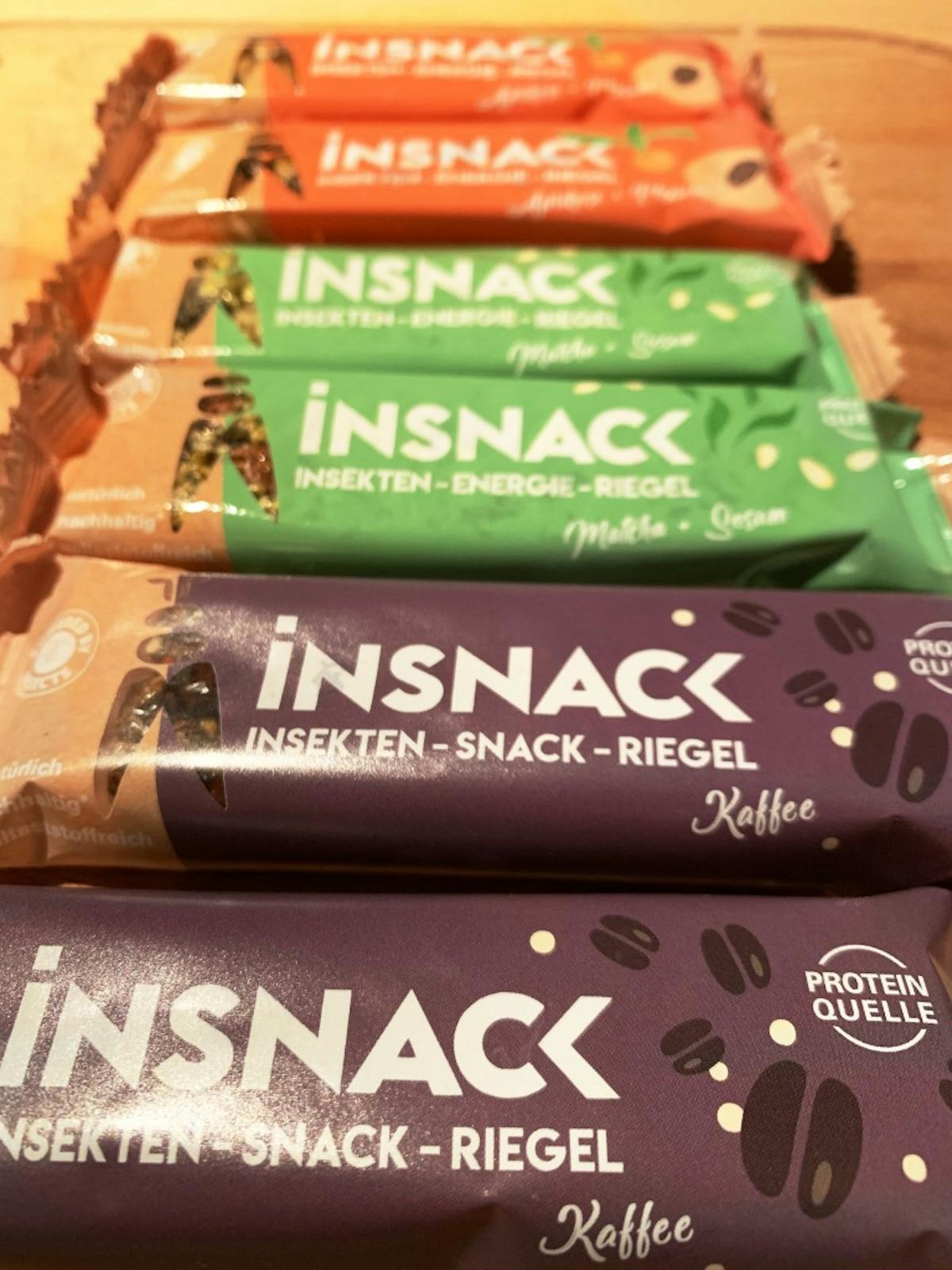 Snack or energy fix?
Snack vs. Energy Bar
Insnack has recently made a switch from branding these bars an "energy bar" to "snack bar". Even though at the time of writing, they are still sold as energy bars on the website, the newer version is considered a snack.
Looking at the well-rounded ingredients and macros (in case you skipped the boring part above, maybe now is the time to still go back) we think this is a very good switch. Although they definitely contain some quick sugars, the fats and protein are at least equally present providing a perfect and healthy snack for any time!
But how does it taste?
Regardless of whether this is an energy booster or a healthy snack, the taste is what it is all about. And here we can keep it short and positive. Although we were not excited about the Matcha-Sesame bar, the Coffee and the Apricot-Physalis versions tasted great!
If you enjoy a cup of black gold, you will certainly love the coffee taste in the Coffee version. Comparably, the Matcha-Sesame has less bursting flavour and tastes more like a regular Sesame bar with a too little hint of Matcha.
More of a sweettooth? Then the Apricot-Physalis bar is the right fit for you. It is sweet and fruity and the bites of physalis are as good as you hope them to be.
Taken together, we are happy to have these bars packed in our bags as a snack anytime anywhere. They provide the nutrition you need, stop your sweet cravings for a while and taste delicious!