In the Spotlight: Essento
TL;DR:
Because Switzerland is not big enough anymore, Essento is now taking their sustainable revolution in the food industry abroad.
© Essento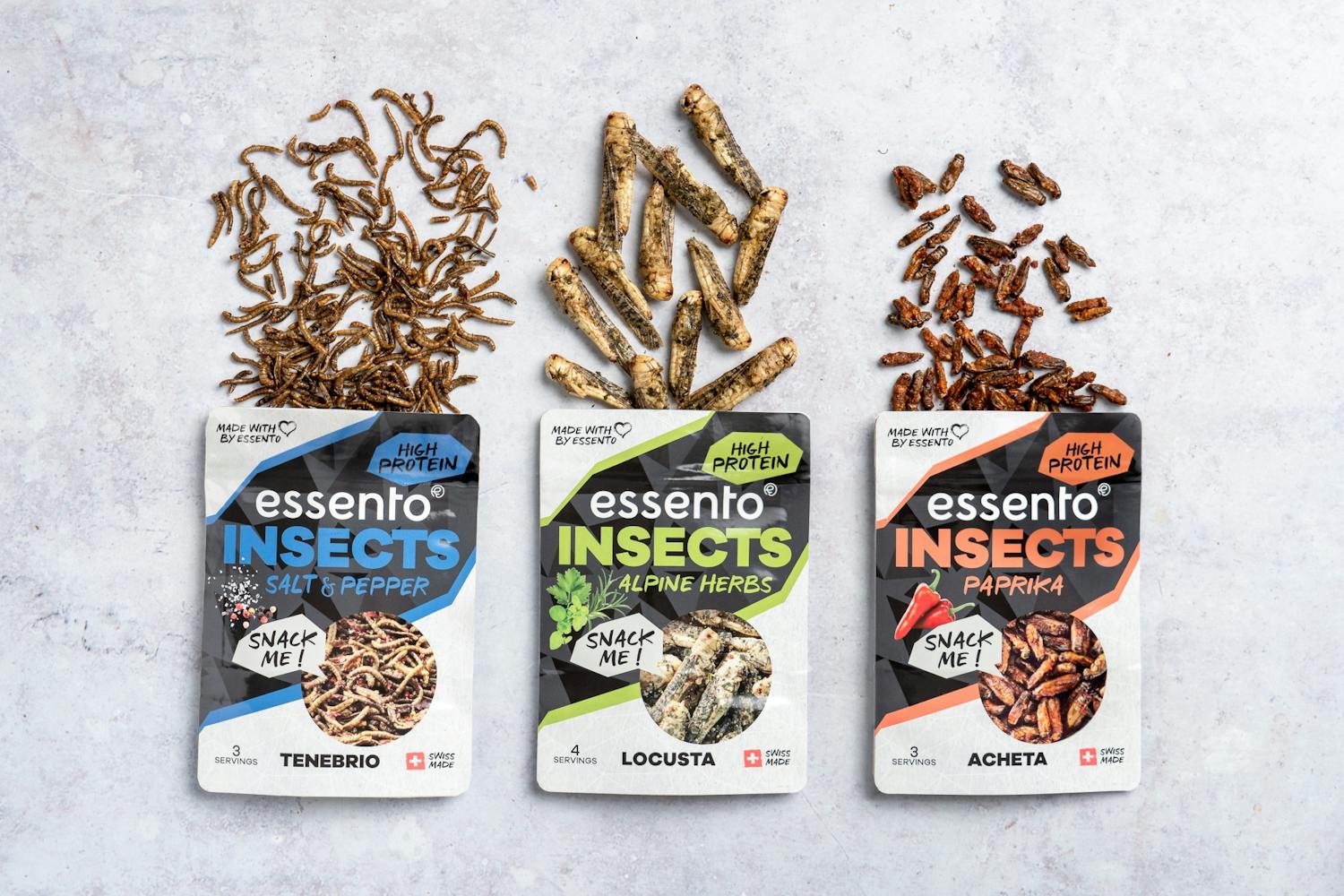 With a range of Insect Snacks, Essento is coming to Germany and Austria
Having picked up over the last five years, the edible insect industry in Europe is young, fresh and exciting. Even though more and more brands are popping up, there is still a relatively small number of them. As we're out there to promote the whole industry, we also want you to meet the players active in it. So here is to our Spotlight series, focused on the brands introducing to us the lifestyle of the future - edible insects!
It feels only right to start this Spotlight series with one of the companies that has been around from the very beginning and even helped shape the industry. And it also happens this company is currently in the process of expanding abroad and aiming to take over the market in different countries by storm. What better brand to start with than Essento!
Introducing Essento
Essento (check out their website here) is a Swiss company that took flight from 2016 on with the launch of one of the first European insect cookbooks: "Grillen, Heuschrecken & Co".
They were one of the driving forces behind the legalization of sales of edible insects in supermarkets in Switzerland in May 2017, becoming the first European country to do so. Three months fast-forward and they launched their first range of products including Insect Burgers and Balls. The story of Essento is definitely not ending with Switzerland, as they just launched a crowdfunding campaign to also go abroad and revolutionize the German and Austrian food industry too - exciting times for all of us insect food lovers!
We definitely want to know more about this brand, what drives them and who they are. So today we are talking to Franzi, the PR and event manager from Essento.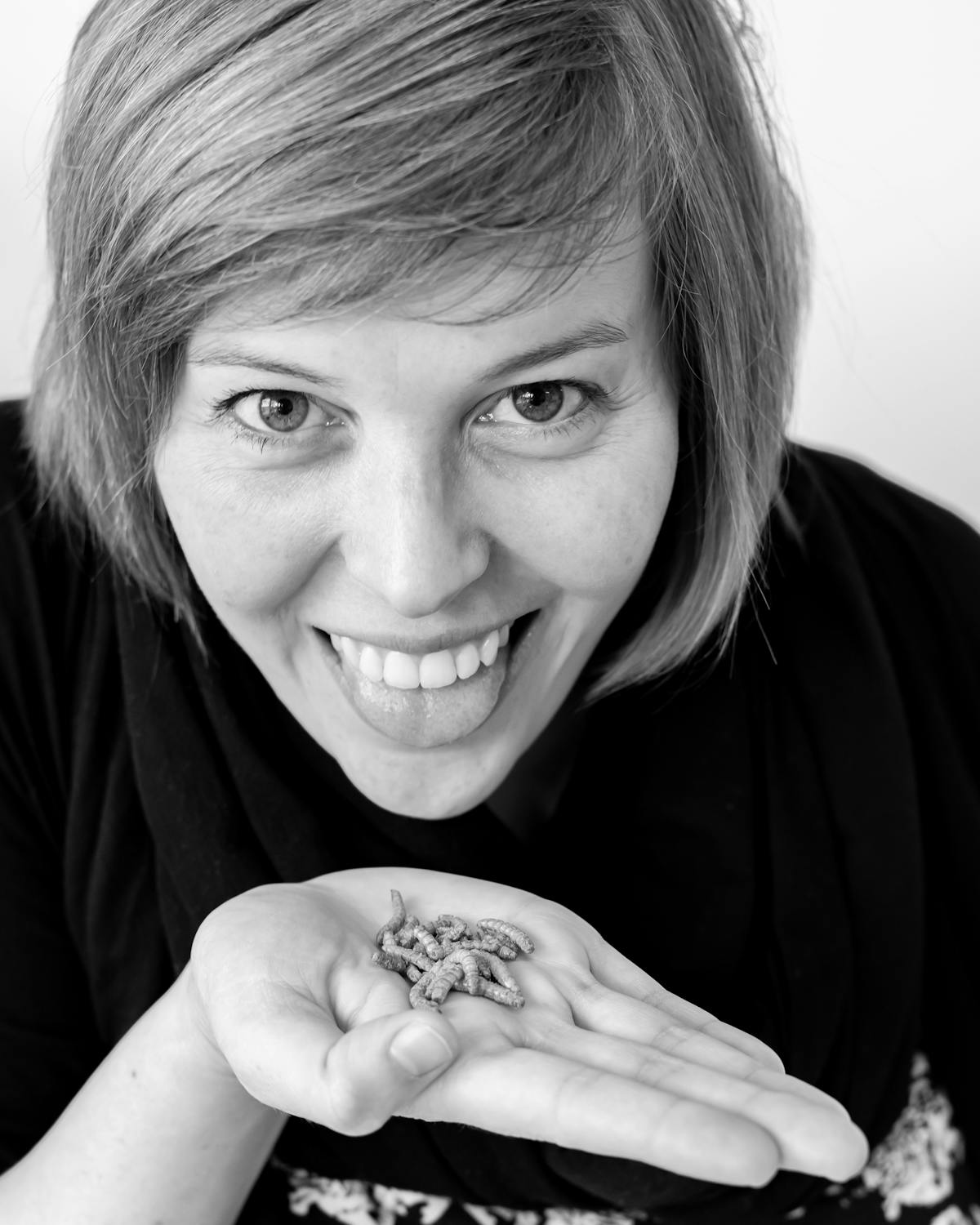 Meet Franzi, who we're talking to to learn more about Essento.
Q&A
Primarily made possible by you guys, Switzerland was the first country in Europe where the sales of edible insects in supermarkets became legal in 2017. Which next goals are you aiming for?
Our next goal is to execute and finish our Crowdfunding campaign. We want to make more people love insects, not only in Switzerland but also in Germany and Austria. We're also looking for likeminded people to grow a team in Germany, so we have more (wo)manpower to push the food revolution forward!
More and more edible insect brands and products are being launched - and the majority is very tasty too. How do you differentiate your products from the competition and what makes Essento unique?
What makes us unique is that all our products are developed and produced by us inhouse in our own manufacturer in Zurich. We only use insects from certified farms in Europe, that are working according to our high sustainable and animal welfare standards. Our products only contain natural and honest ingredients and a short ingredients list. Whenever possible we try to source our ingredients as local as possible. For our insect burgers available at Swiss supermarkets, for example, we source organic insects from a Swiss farmer, located 40km from our manufacturer. All our products are high in protein and contain at least 10% insects, but most of the time a lot more.
One of the greatest (and most important) selling points of edible insects is sustainability. In addition to eating and promoting edible insects, how do you live an eco-friendly lifestyle yourself?
Personally, I mainly use public transport, grow my own salad, tomatoes, peppers and herbs on our balcony, mix my own washing liquids and buy local organic food, just to mention some examples. I grew up on a small farm, so knowing how and where my food is produced has always been a quest in my life.
We from Allsect like the mealworm from all edible insects the best. What's your favorite and least favorite insect?
Until now, I've only had mealworms, crickets, grasshoppers and larvae of bee drones. Every insect has its own specific flavour and fits best to a certain dish or occasion. The first insect I've ever had was a grasshopper, marinated and grilled on a stick. It's still my preferred insect dish. When friends are over at my place, we usually have insect burgers as a main dish and some insect snacks as starters or as a salad topping.
Insects are not only healthy and sustainable but also very tasty, so what is your favorite recipe that you crave all the time?
Grasshopper skewers. The recipe is from the cookbook that Christian Bärtsch, the founder of Essento has published. You can find it on our website (we're currently working on our German website, so you'll find it there soon too!)
The yuck factor is still a thing in Europe when it comes to eating insects. How do you convince other people to eat insects and what do you recommend them to start off with?
The yuck factor is mainly influenced by culture, your personal experience and surroundings. Information is key to overcome it. People have loads of questions about insect food and we're there to answer them all. Second, the way insects are served matters! Most people are okay to try an insect product, when they don't see the insect. That's why we've started with our insect burgers. And also our protein bars are much appreciated.
Last but not least: whatever a person tries at first, it needs to taste just WOW. If they don't like it, they probably won't try it a second time. That's why a great taste is one main criteria when developing new products. We're also constantly improving our launched products according to consumer feedback, so they get better and better.
My personal recommendation (which is exactly how I did it): if you're not into burgers, start with insect snacks. Group together with friends, have a fizzy drink with it, don't think toooo much about it. Just try it. And you'll see, the only parts about eating insects that really is "yuck" is the imagination in your head ;).
You just launched a crowfunding initiative. Tell us more about the project and its goals!
Essento's mission is to secure a healthy and sustainable diet for everybody. Today, but also in the future. Eating insects is good for our bodies and good for our planet too. That's why we've started the insect food revolution and put all our efforts into making more people love insect food. We've had a successful start in Switzerland. Now we want to bring our food revolution to Germany and Austria.
To make it easier for people to love insects and integrate them in their diet, we've created our new high protein Essento Insect Snacks. We season the best insects (from European farmers) with selected herbs and spices. Our supporters can pre-order the snacks and support our mission. Together, we can push the food revolution forward!
Join the revolution!
We are sure you are as excited about Essento's campaign and insect snacks as we are! While writing this article, the crowdfunding campaign is up for another three weeks (until the 23rd of June 2020). So get your credit cards out, click here and let's support the insect food revolution together! We are convinced the campaign will be a success and can't wait to see Essento's snacks on German and Austrian couches, work desks in the office and girls nights soon!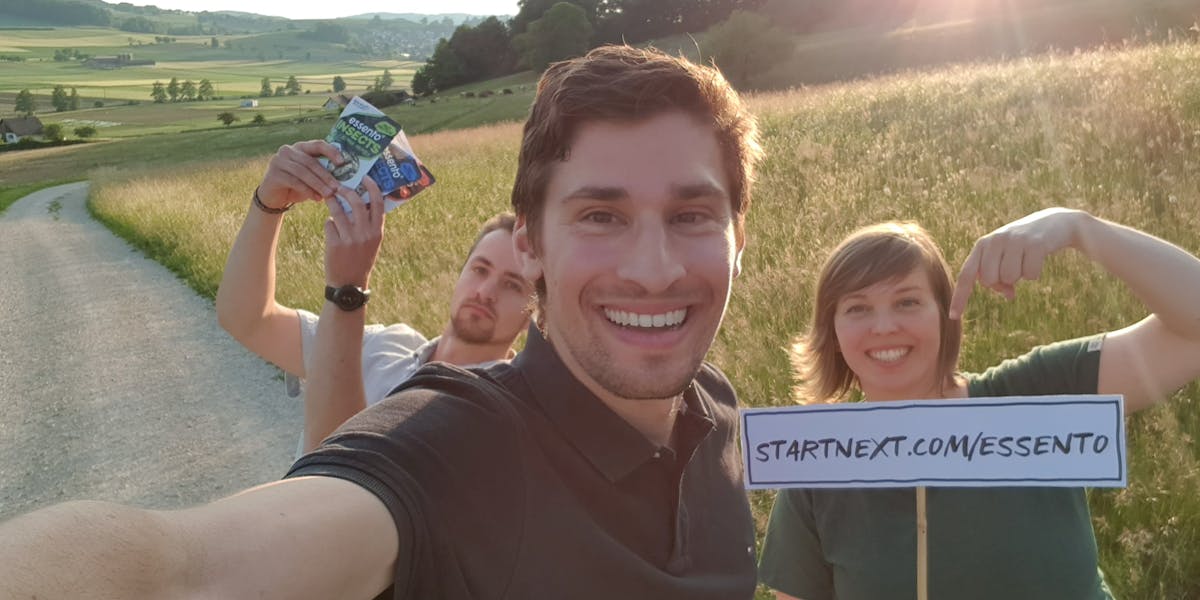 Help the Essento team and support their crowdfunding campaign!