For chocolate lovers like us, brownies are an absolute treat. The perfect brownie is hard (and maybe a little crunchy) on the outside and has that fudgy and lava-like inside of melted chocolate. Simple to say we love absolutely everything about brownies... Except for the fact that apart from the chocolate it basically consists of butter and sugar. Unfortunately, this simply is what makes a brownie so good, but on the other hand we have been looking for a healthier alternative for pretty long - and it would be awesome if we could come close to the brownie taste too.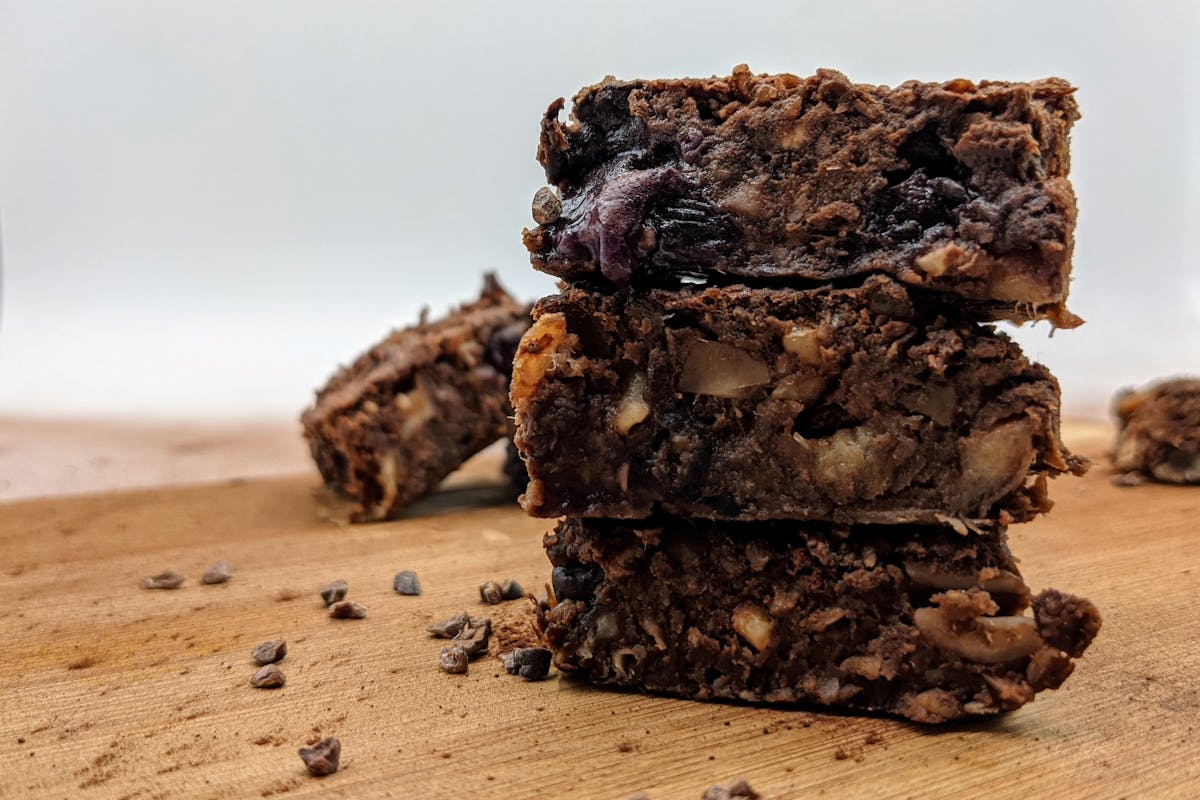 INGREDIENTS
400 grams of sweet potato
10 dates
100 grams of (frozen) blueberries
2 tbsp of coconut flakes
2 tbsp of raw cacao powder
2 tsp of baking powder
50 grams of oats
50 grams of crushed almonds
2 tbsp of syrup
3 tbsp of cricket flour
A pinch of salt and cinnamon
PREPARATION
Peel the sweet potatoes and cut them into small chunks
Boil for about 10 minutes or until soft and you can easily pierce them with a fork
Cut the dates in small pieces
Pre-heat the oven to 180 degrees
Throw all of the ingredients except for the blueberries in the blender or kitchen machine and blend the shit out of it
Mix in the blueberries and spread the mix on a baking sheet
Put in the oven for 20-25 minutes, let it cool afterwards and cut into brownies of your favorite size
Luckily, Googling healthy brownies already gets you pretty far. The keto, vegan, flourless, paleo, sugar-free, gluten-free and butter-free brownie alternatives are endless by now. However, we still found almost none of them to be absolutely free of both sugar and butter, and started trying some things ourselves. The base of our brownies consists of sweet potato, nuts, oats, cricket flour and a bunch of cacao powder to get that awesome chocolate flavour. The only sugar - because brownies simply need a little bit of sweetness to even out the bitterness of cacao - we add is from a bit of syrup.
Before you get too excited we do want to make one thing clear. We really like the chocolate-rich flavour and gooey texture of our brownies, but in the end they are not the same as the ones full of butter and sugar. Nevertheless this recipe has enabled us to eat brownies way more often and stay in (decent) shape as well! And every now and then we also simply indulge in a real one ;).
And it's not even hard or a lot of work. Throw everything together in a blender and mix to a soft and spreadable mixture. Spread it onto a baking tray and let the oven do the work afterwards. Make sure to let it cool after taking it out of the oven, so it can be cut into chunks of your favorite size.