Tested: Mybugbar Protein Powder
TL;DR:
Natural in both ingredients and taste, this protein powder is a welcome addition to your protein supply.
Mybugbar is mild, fruity, and creamy, making it a very pleasant protein shake!
Sportsfanatics as we are, we have tried a good amount of protein powders over the years. Many people regularly using protein powder understand the issues with them often - if not always - tasting artificial and overly sweet. On the other hand, protein powders that are of natural taste and basically just whey protein concentrate/isolate, don't taste like anything and are therefore also pretty unpleasant to consume.
Could it be the case that natural ingredients and some insects solve this problem? Mybugbar is full of natural fibers and ingredients and rich in complete protein thanks to the added buffalo worm powder and seems to fulfill this promise at first sight. Let's dive in!
The (boring but important) facts
Most of the time a review is all about the taste of the product. After all, first and foremost, something should simply taste well. When it comes to protein powder, taste is not everything - it's also about the gains. So what exactly do you get from Mybugbar protein powder?
The protein powder is made of natural ingredients only. First of all, a protein mix made up of soy, pea, rice and/or almond protein and 25% buffalo worm powder. Your flavour of choice stems from either strawberry, banana or cacao powder and some coconut powder is added to make your shake smooth and creamy. Finally, the only two additives are xanthan (a thickening agent) and stevioside (a natural sweetener from the stevia plant). And that's it!
All of these together provide you with the following gains per 100 grams (for the chocolate variant, so small changes apply to banana and strawberry):
405 calories
71 grams of complete and sustainable protein
7 grams of carbs
11 grams of fat
And a bunch of fiber (11 grams), B12, iron and zinc because of the buffalo worm powder!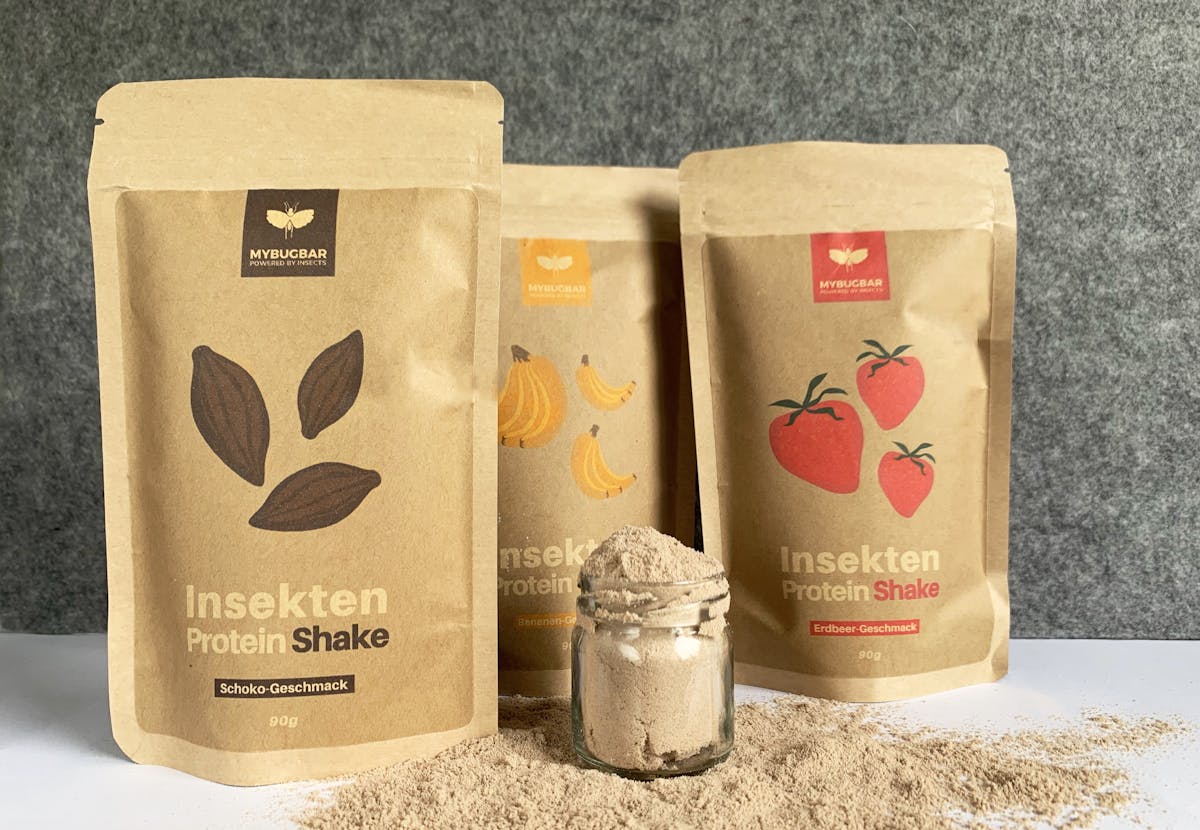 Wanna have them all? Get the trial pack and find your favorite.
But how does it taste?
Mybugbar protein powder comes in three flavours: strawberry, banana and chocolate. In general, we like the natural taste of all three of them. You can actually taste that no artificial sweeteners are used but only natural ingredients. This means you don't get an artificially sweet explosion drinking your protein shake, but this also means you do not get a flavour explosion in general. We enjoyed the mildness of all three of the flavours, but it is something to consider if you enjoy the sweetness of most protein powders.
We know that buffalo worm has a pretty strong and intense flavour, that when used in products can truly nullify other flavours. So when we saw that 25% of the protein powder is from buffalo worm powder, we were a little afraid to only taste buffalo worm. But we were very surprised when we noticed you actually don't taste it at all. The mild and fruity taste is not affected by it in any way.
Being the good team that we are, we agree on most things. But when it comes to choosing the favourite Mybugbar flavour, Johanna roots for strawberry and Tom for banana. One thing we can agree on again is that there is a clear distinction between the three flavours. Even though we love chocolate, the chocolate flavour is not our first choice, because it is the least intense of the three. We rather go with the fruity versions, as these are a little richer in taste.
A little extra
To wrap up this review, we wanted to include a couple more things we liked about the sustainability aspects of Mybugbar. You know that feeling when you get this massive box sent home and you're wondering what huge gift someone sent you to find out it was just the new phone charger wrapped in tons of protective plastic? The Mybugbar package perfectly fits the content, wasting nothing on superfluous packaging material and space.
Another sustainability thing we enjoyed is the paper bags that contain the protein powder. Most protein powder still comes in plastic bags, and with a plastic spoon (of which you already have a million anyway), but here Mybugbar also scores some extra points on packaging and sustainability.